Covid-19 Epidemic Prevention Solution
Social Distancing Bracelet For
Contact History Tracing
The COVID-19 pandemic has been spreading and continuing for two years and is gradually under control. But it is likely the world will need to live with the virus for a long time. So intelligent & scientific prevention tools and management systems are crucial.
iSmarch as a IoT smart wearable supplier deliver social distancing alarm solution, real-time locating, automatic alarm, contact history tracking, and analysis for every field want epidemic prevention.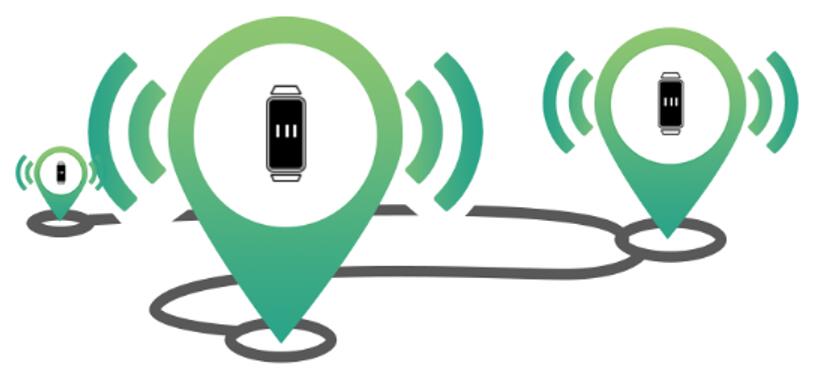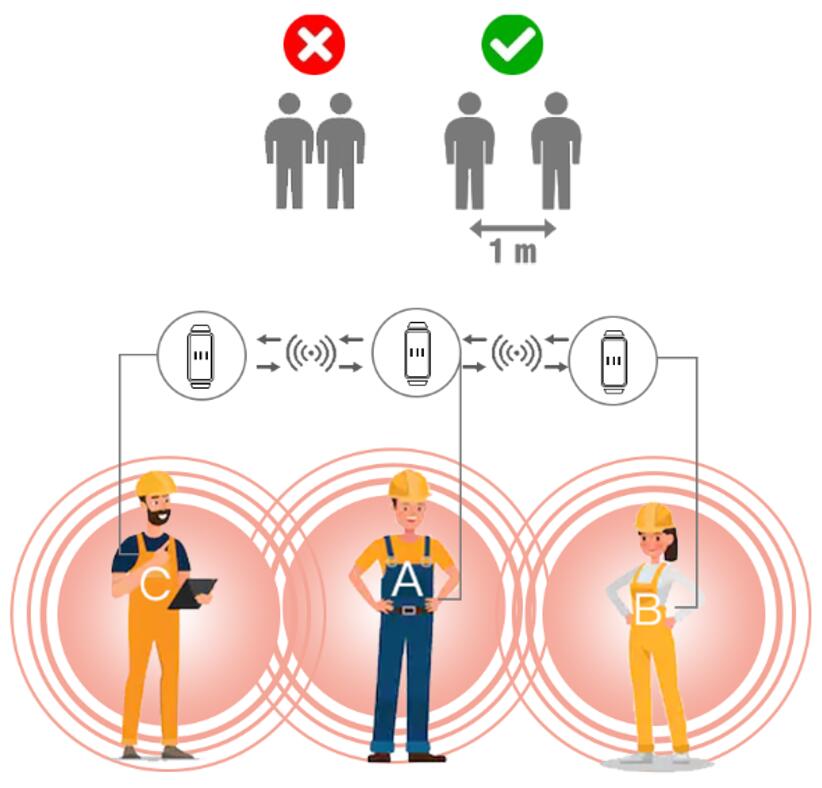 We provide a variety of social distance alarm solutions. We offer a whole solution for innovative facilities based on UWB positioning technology, including UWB social distancing bracelet, UWB gateway, and IoT platform management.
The tolerance for the UWB smart wearable device we control is less than 10cm, effectively preventing close contact between people and achieving contact tracking through accurate measurement warnings. This is suitable for significant enclosed places, such as large factories, where every worker wears a social distancing bracelet.
The social distancing alarm system will measure the relative distance between two workers in real-time. Suppose the distance between two workers is less than 6 feet (adjustable).
In that case, the social distancing wristband will automatically alert them (alarm/vibration/voice). More importantly, every alarm will be recorded, allowing close contact tracing through contact history.
Some places are not suitable for installing UWB gateway. We also developed the social distancing alarm with Bluetooth and RFID technology. With dual CPU, social distance reminder and contact history management can be realized without App and base station, which is very convenient and suitable for small scenes, such as concerts or small offices.
iSmarch's Social distancing bracelet for Contact Tracing has been widely applied in the global market in the past two years. Thanks to iSmarch's efforts in IoT smart wear for more than ten years, it can quickly provide the most advanced smart wearable technology to assist the government, enterprises, schools, and other commercial institutions in defending against COVID-19.
1. Application For Social Distancing Wristbands
Maintaining social distancing is the most effective and economical way for epidemic prevention. And the whole world needs to continue to achieve economic development; also human life, and epidemic prevention at the same time – so social distancing alarm is the most appropriate tool. And more and more fields and countries have started to introduce social distancing technology which helps resume work and school quickly and safely.
According to the "New York Post" report in the United States, Belgium will gradually resume work recently. To prevent the spread of the new crown virus, thousands of workers in the country's Antwerp port will wear bracelets from May to maintain social distance with colleagues.
Owen Vestalen, Chief Technology Officer of Antwerp Port, said that based on providing safety helmets, safety shoes, and life jackets for port workers, they would provide workers with warning bracelets: "If someone does not maintain a social distance, It will be discovered soon. "
It is reported that when the distance between the two bracelets is less than 10 feet (about 3 meters), they will begin to vibrate. The closer the distance, the louder the vibration will be, and the warning lights will become brighter.
2. Social Distancing Bracelets & Features
iSmarch provide high accuracy social distancing bracelets to fit different application such as Bluetooth, Wifi, UWB, RFID technology realize your request. Simple set up without App, easy to operate for every single user.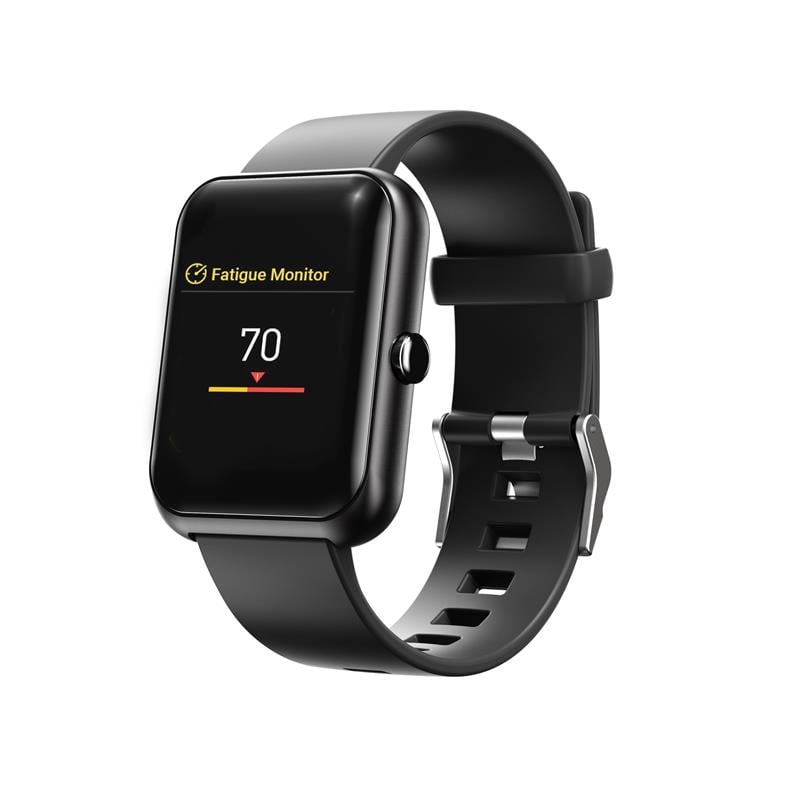 Bluetooth social distancing smartwatch, set up your bluetooth gateway for business application or healthcare center.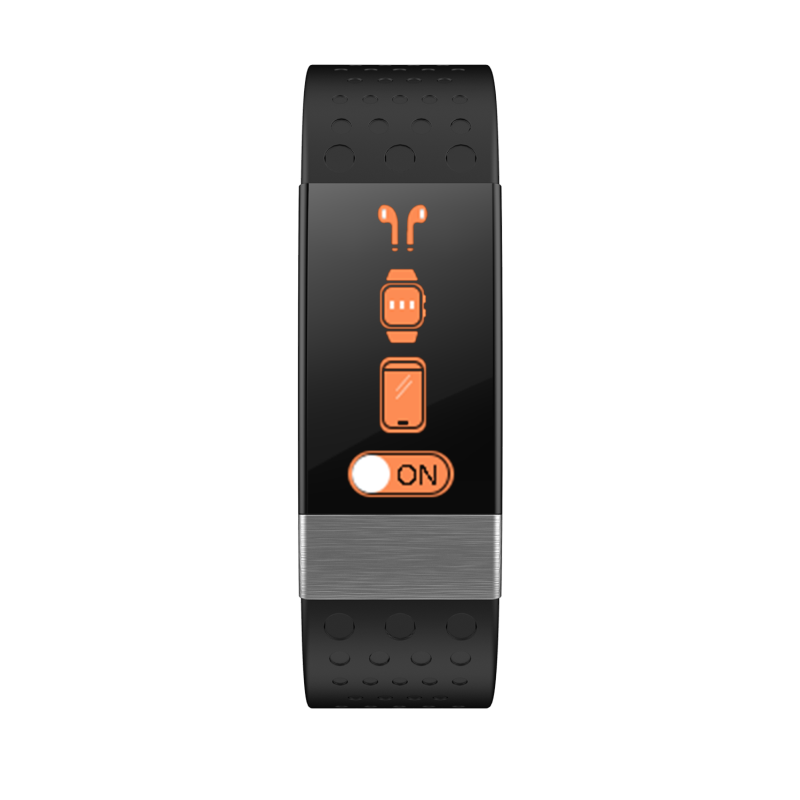 UWB social distancing bracelet for high accuracy, set up your UWB gateway for hospital, medical center.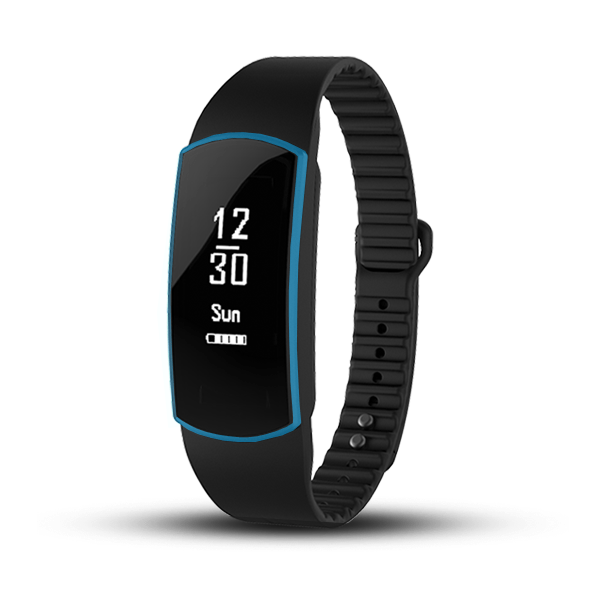 Wifi social distancing wristband for kids, Wifi and Bluetooth gateway to support school application, keep shcool open.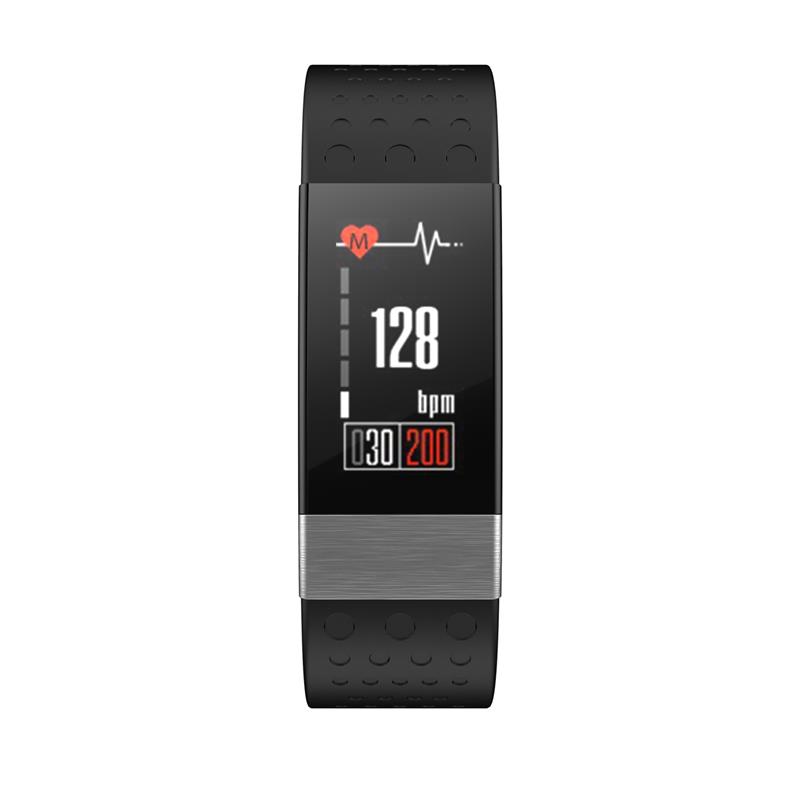 All above are only a part of our social distancing bracelet. We can also do OEM & ODM for ID and technology according to customer requirements. We can make UWB, Bluetooth, RIFD solutions for different scenarios, and you just need to tell us your application details. Then we could provide you with a professional solution based on your field.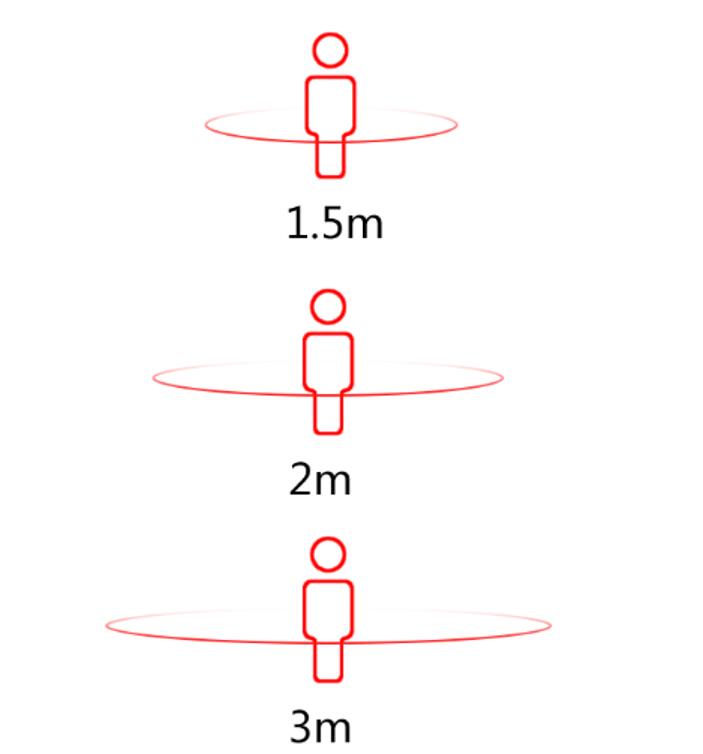 3. Social Distancing Wristband For Epidemic Prevention
3.1 High accuracy real-time distance measuring
The social distancing wristband can be set to 1m, 1.5m, 2m, and 3m to meet the different definitions of social distancing in other countries. Anyone can quickly learn to operate it. The tolerance can be controlled within 10cm.
3.2 Customized alarm optional
The social distancing alarm can be set to vibrate and bee sound or just bee sound, which you can customize by yourself.
3.3 7-10 days continuous long working time
Our social distancing bracelet adopts a Nordic ultra-low CPU for a longer working time; there is no need to worry about charging so often. To match corporate and government applications, we also offer the big charging box, which allows charging up to 50pcs at a time. This is a perfect solution for schools, businesses, and government organizations. The big charging box is guaranteed to keep employees fully charged every day.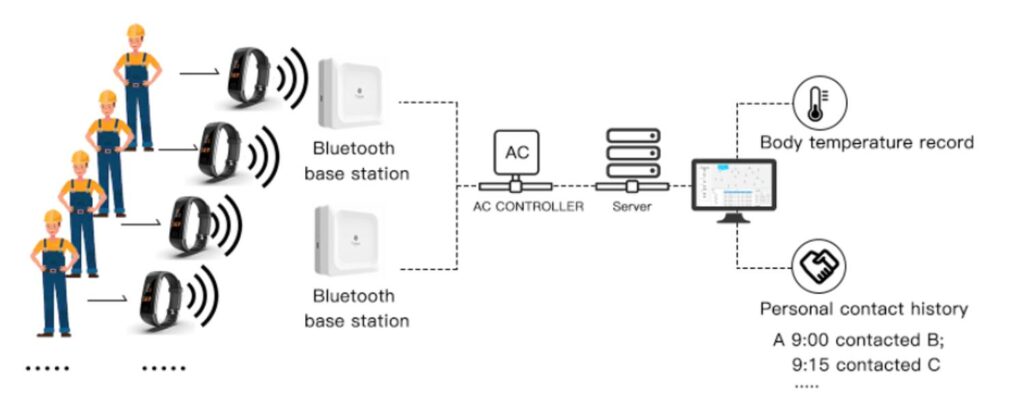 3.4 Unlimited number of people
Anyone wearing N people near you will vibrate to remind you to maintain social distancing. It won't stop working just because more than one person is near you.
3.5 A good contact tracing solution
Social distancing bracelets will broadcast contact history then upload it to the IoT platform, which forms a contact history of each person. If any wearer is tested positive, the exposure contact history can be pulled up immediately. The IoT platform can automatically push a message to all the contact history to immediately detect self-quarantine and coronavirus.
3.6 IoT platform data is complete.
The platform support search and screen, form contact history check for each ID (wearer, contact, contact time, contact duration), quickly find a key monitoring group and control the spread of the epidemic.
3.7 Real-time body temperature detection
There is no need for manual temperature monitoring. The social distancing wearable can measure body temperature in 24hours in real-time with precision within 0.2 degrees Celsius. Body temperature is collected centrally and uploaded to the platform to form records, including daily body temperature detection, over-temperature alarm, body temperature record report.
3.8 Real-time positioning of personnel
Real-time positioning of employees; Employees close to dangerous areas will automatically alarm; Longtime static alarm can be used to better manage staff, more scientific and efficient management.
3.9 But also a healthcare smart bracelet.
All other vital parameters were collected and reported to the platform for recording: heart rate, spo2, and blood pressure data were uploaded; Step numbers, mileage calorie upload; Real-time view on the background management platform.
3.10 Automatic push message
The IoT platform editable message delivery; The social distancing bracelet can store up to 10 pieces of messages. For example, some extensive production facilities cannot carry mobile phones on-site, so it is also effective communication.
3.11 SOS panic button
Our social distancing smartwatch is designed with a physical button for emergency help. For example, if the wearer fall or is in danger, only pressing the button can trigger the SOS for use and the smartwatch automatically sends a message to the corresponding contact. This is very important for the health management of the elderly. People in danger can get help, rescue, and treatment for the first time
3.12 Secure access control or daily check-in
Our social distancing wristband also has NFC, so also can realize access control and daily check-in and exit like smart ID cards, reducing costs and creating an environmentally friendly work environment and brand image. Efficient access control, control strangers in and out, ensure the safety of the working environment, and an intelligent attendance system to improve work efficiency.
4. Social Distancing Technology Help Epidemic Prevention
4.1 Employees wear bracelets
4.2 Bracelet collects employee body data and contact history
4.3 The bracelet reports the information to the Bluetooth gateway
4.4 Then transfer to AC and server, the final data is presented in the background display panel
4.5 The platform can find employees' temperature detection reports and personal contact history
Consult Your iSmarch Social Distancing Bracelet Expert
We will study your smart watch customization requests within 12hours and provide the most suitable item on-budget.