Your Professional ECG Smart Watch
Manufacturer & Supplier
1. What is ECG in Smartwatch?
Electrocardiography (ECG) is a technique that records the pattern of electrical activity produced by the heart during each cardiac cycle from the surface of the body.
The heart is a three-dimensional structure, in order to reflect the electrical activity of different sides of the heart, in different parts of the body placed electrodes to record and reflect the electrical activity of the heart. The placement of cardiac electrodes is shown in the table below. During routine ECG examination, only 4 limb leads and 66 V 1-v precordial leads were used to record routine 12-lead ECG.
Name and position of electrode on body surface
Name of electrode
Electrode position
LA
Left upper extremity
RA
Right upper extremity
LL
Left lower extremity
RL
Right lower extremity
V1
Right margin of sternum at 4th intercostal space
V2
Left margin of sternum at 4th intercostal space
V3
Between lead V 2 and lead V 4
V4
Fifth intercostal space above the left clavicle midline
V5
Fifth intercostal space on the left axillary anterior line
V6
The 5th intercostal space is on the left axillary midline
V7
Fifth intercostal space on the left posterior axillary line
V8
The 5th intercostal space is above the left scapula
V9
Fifth intercostal space on the left paravertebral line
V3r
Between lead V 1 and lead v 4R
V4r
The 5th intercostal space is above the middle line of the right clavicle
V5r
The 5th intercostal space is on the right axilla anterior line
Currently the smart wearable device is a single lead.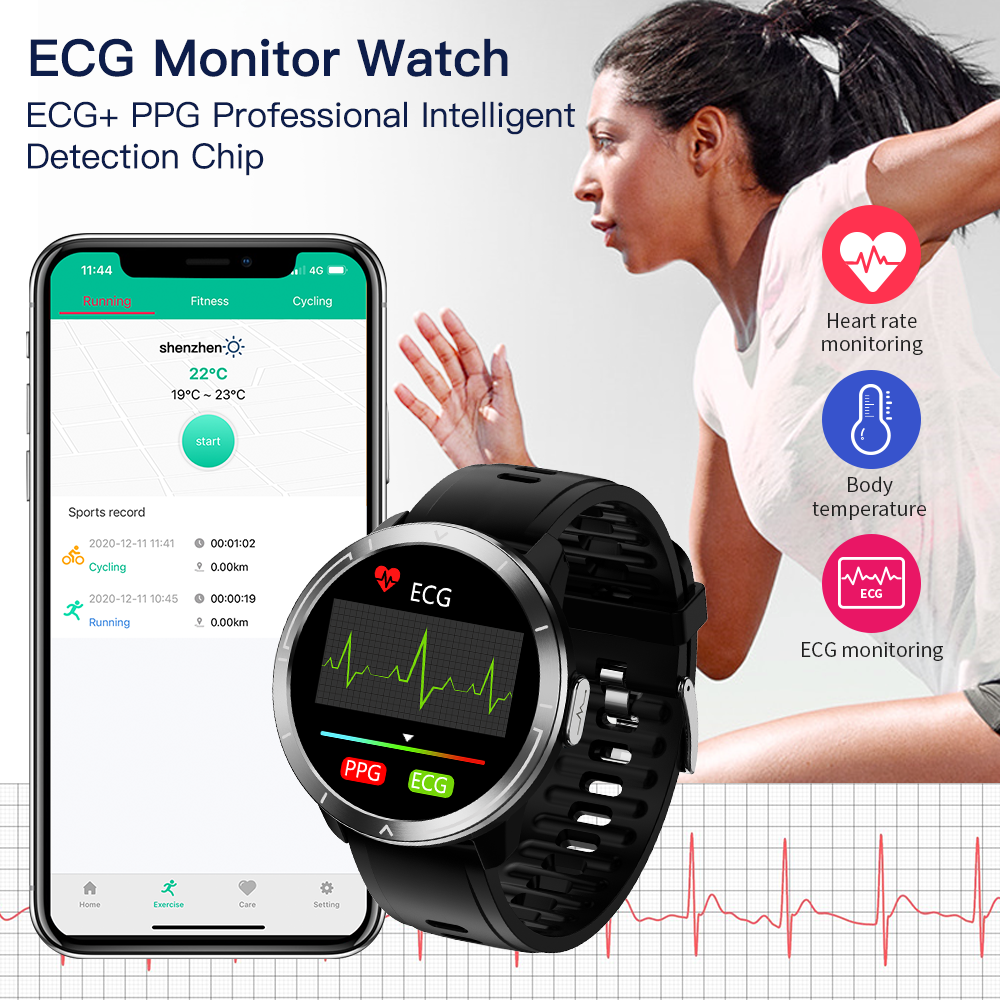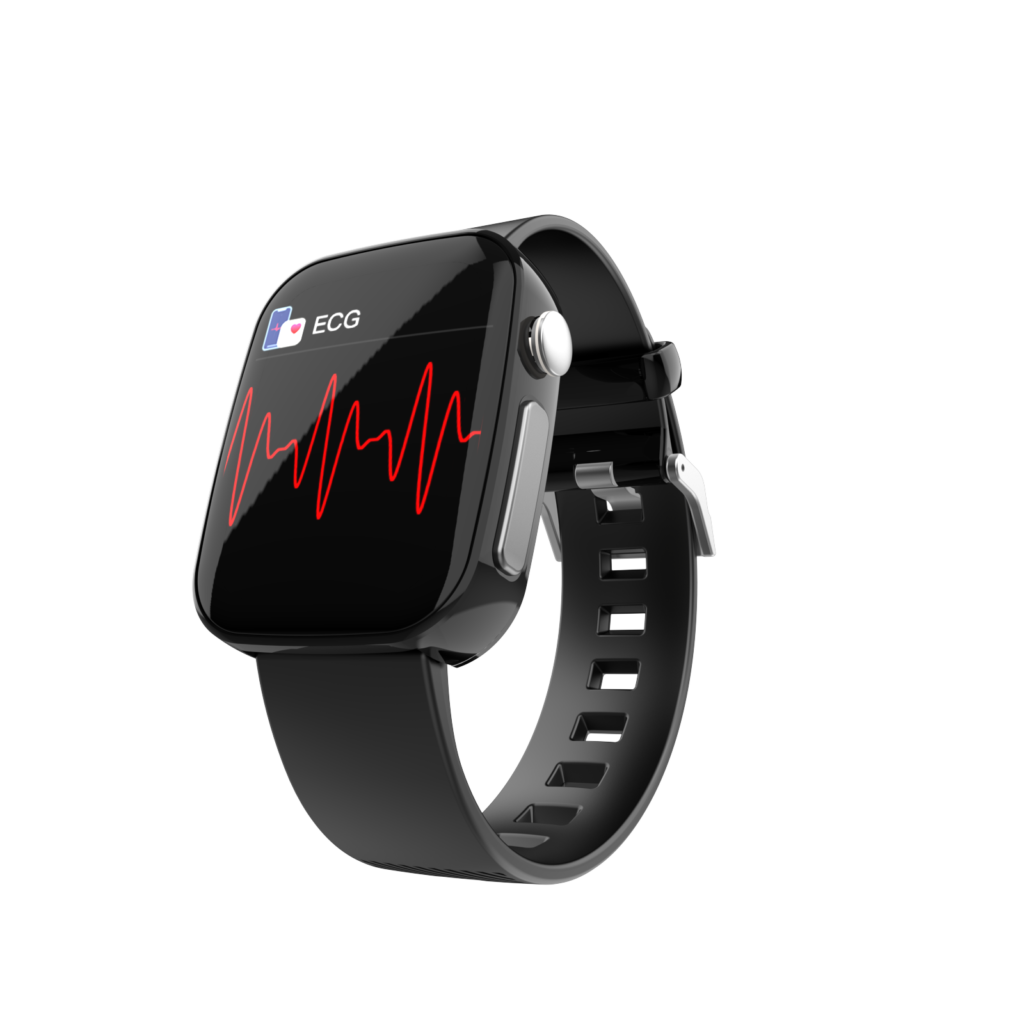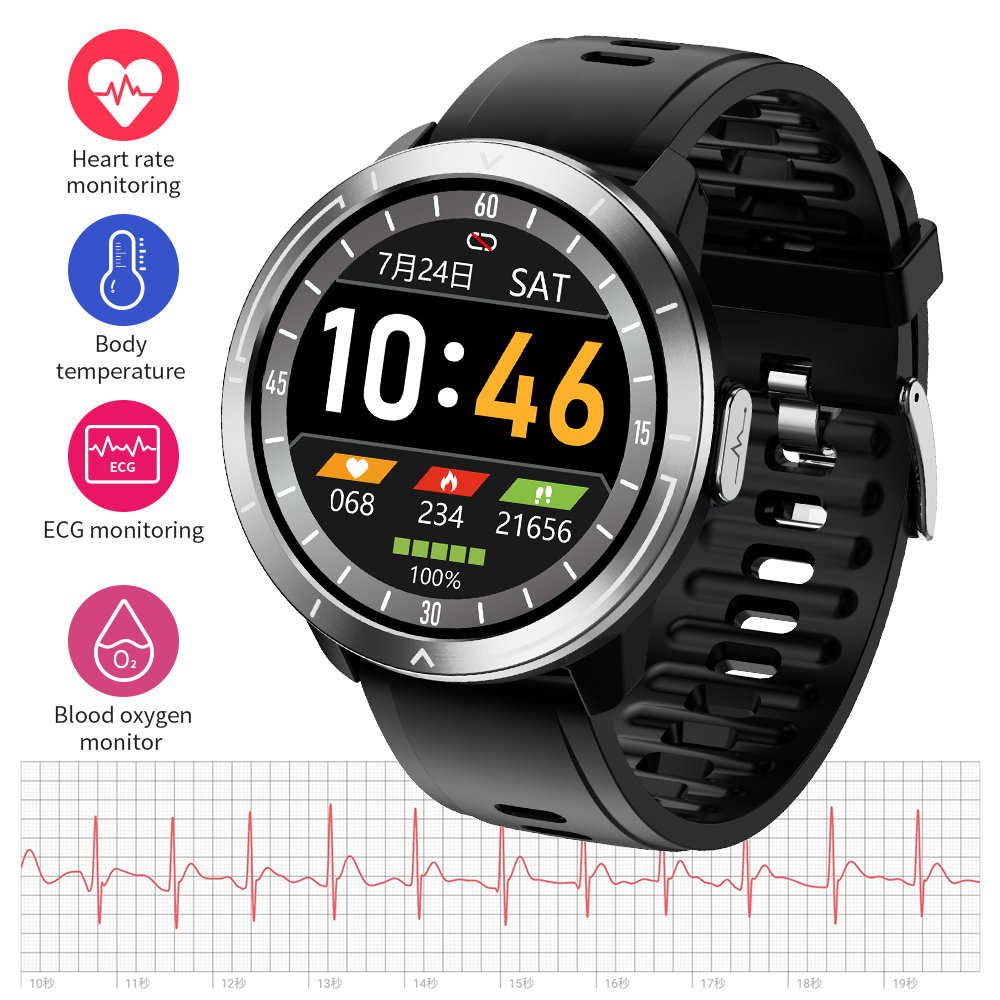 2. ECG Watch Application & function:
ECG is one of the most commonly used clinical examinations, widely used. Applications include:
Record the normal electrical activity of the human heart.
Help diagnose arrhythmias.
To help diagnose myocardial ischemia, myocardial infarction and location.
Diagnosis of cardiac enlargement and hypertrophy.
Determine the effect of medications or electrolytes on the heart.
Determine the state of artificial heart pacing.
Biofeedback, mood and stress levels
3. How to Test ECG Watch in A Professional Way?
(1) if the serial oscilloscope software is used on the laptop, the power cord of the laptop should be unplugged, otherwise there is interference (used to test the serial output data)
(2) if the device is worn with the left hand, press the electrode with the fingers of the right hand, and make sure that the right hand does not touch the left hand.
(3) the hand should be placed on the table when measuring, so as to be better fixed and prevent dynamic interference.
(4) don't put the plug board on the table when measuring, there will be interference.
(5) do not speak while measuring.
(6) the height of the arm and the heart were basically equal
(7) individual ECG is very different, attention to keep the skin moist, dry skin on the ECG more large impact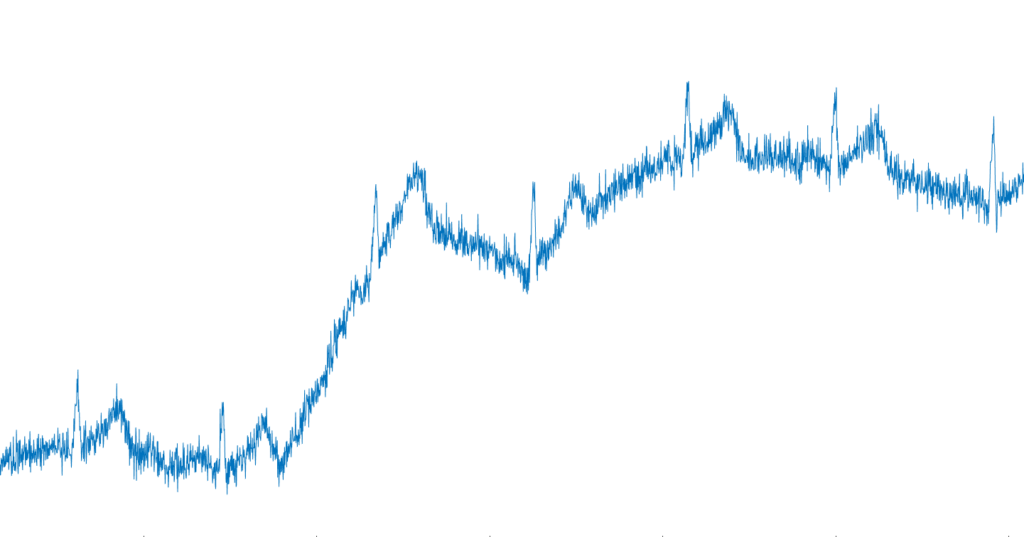 4. iSmarch X6 Wearable ECG Watch Introduction:
The X6 ECG Smartwatch is an advanced health and fitness device with a plethora of monitoring features. At its core, it provides continuous 7*24 hours of heart rate broadcasting with remarkable precision and ultra-low power consumption. Additionally, it's equipped to measure blood oxygen saturation through Photoplethysmography (PPG), body temperature, blood pressure, and respiratory rate, and even has capabilities for stress and fatigue detection based on an HRV algorithm. Activity and sleep patterns aren't left behind, with the device tracking distance, calories, and steps for up to 7 days, and offering detailed sleep monitoring via broadcasting.
In terms of hardware, the device has a sleek dimension of 43*34*13mm (excluding the strap) and weighs a mere 22.5g without the strap. Under the hood, it operates on the NORDIC NRF52840 chipset and offers 512K of FLASH memory. The visuals are catered for by a 1.3-inch TFT IPS screen with a resolution of 240*240, and it responds to full touch input. Compatibility isn't an issue with the watch pairing seamlessly via Bluetooth 5.2 and working in tandem with the IXFIT app available for both Android (5.0 and above) and iOS (9.0 and above) platforms.
The watch's power dynamics are just as impressive. It uses a polymer lithium battery with a capacity of 260MAH. Users can expect more than 7*24 hours of active use, especially with continuous heart rate monitoring, irrespective of screen lighting or bracelet vibrations. Charging is also expedient, taking approximately 2 hours via its specialized charging mechanism.
Rounding up its features, the watch comes with an IP68 waterproof rating. The design elements incorporate an aluminum oxidation finish for the watch case, an IML anti-scratch design for the back case, and a durable TPU strap available in a variety of colors. For those requiring enhanced Bluetooth capabilities, the watch also supports Bluetooth BEACON broadcasting, NFC, and automatic time syncing without an app, all while storing up to five messages.
5. iSmarch X6 Wearable ECG Watch Specifications- Features that Define Next-Gen ECG Monitoring
The X6 ECG Smartwatch offers an extensive range of features designed to keep a tab on one's health and fitness. Here are the standout specifications:
Health Monitoring Features
Heart Rate Monitoring: Provides continuous 7*24 hours of heart rate broadcasting, ensuring both high precision and ultra-low power consumption.
Blood Oxygen Saturation (SpO2): Uses Photoplethysmography (PPG) for high-accuracy blood oxygen readings.
ECG: Supported.
Respiratory Rate: Measures breaths per minute.
Body Temperature: Features a high precision temperature module that can measure both body temperature and body surface temperature simultaneously.
Blood Pressure Monitoring: Supported, though readings may not be entirely accurate.
Stress and Fatigue Detection: Utilizes an HRV-based algorithm for stress levels and provides fatigue updates by 9 am the next day.
Activity Tracking: Tracks distance, calories, and steps for up to 7 days.
Sleep Monitoring: Offered via broadcasting.
Device Dimensions: 433413mm (without strap).
Weight: The device weighs 22.5g without the strap, while the strap alone weighs 5.2g.
Chipset: Powered by the NORDIC NRF52840.
App Compatibility: The IXFIT app, available for download on both the App Store and Google Play Store. Compatible with Android 5.0 or above and iOS 9.0 or above.
Memory: Comes with a 512K FLASH memory.
Display: Features a 1.3-inch TFT IPS screen with a 240*240 resolution and full touch capabilities.
Connectivity: Bluetooth 5.2 enabled.
Sensors: Equipped with a high-precision G-Sensor, Accelerator, Gyroscope, and a high-accuracy low power PPG module.
Type: Polymer lithium battery.
Capacity: 260MAH.
Charging Method: Specialized charging mechanism.
Battery Life: Can function for more than 7*24 hours with continuous heart rate monitoring, regardless of screen lighting and bracelet vibration.
Charging Time: Approximately 2 hours.
Waterproof Rating: IP68.
Design & Build: The watch case is crafted from aluminum with an oxidation finish, while the back case boasts an IML anti-scratch design. The strap is made of durable TPU and is available in various colors.
Special Features Requiring Bluetooth Gateway
Bluetooth BEACON broadcasting, NFC support, and the ability to automatically sync time without an app. It also offers push notifications with a maximum text limit of 50 Chinese characters and can store up to five messages.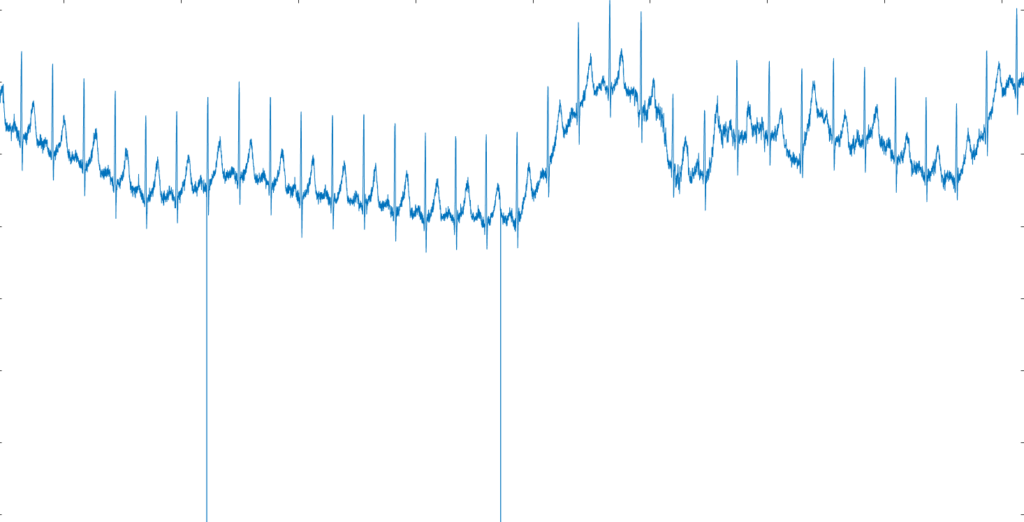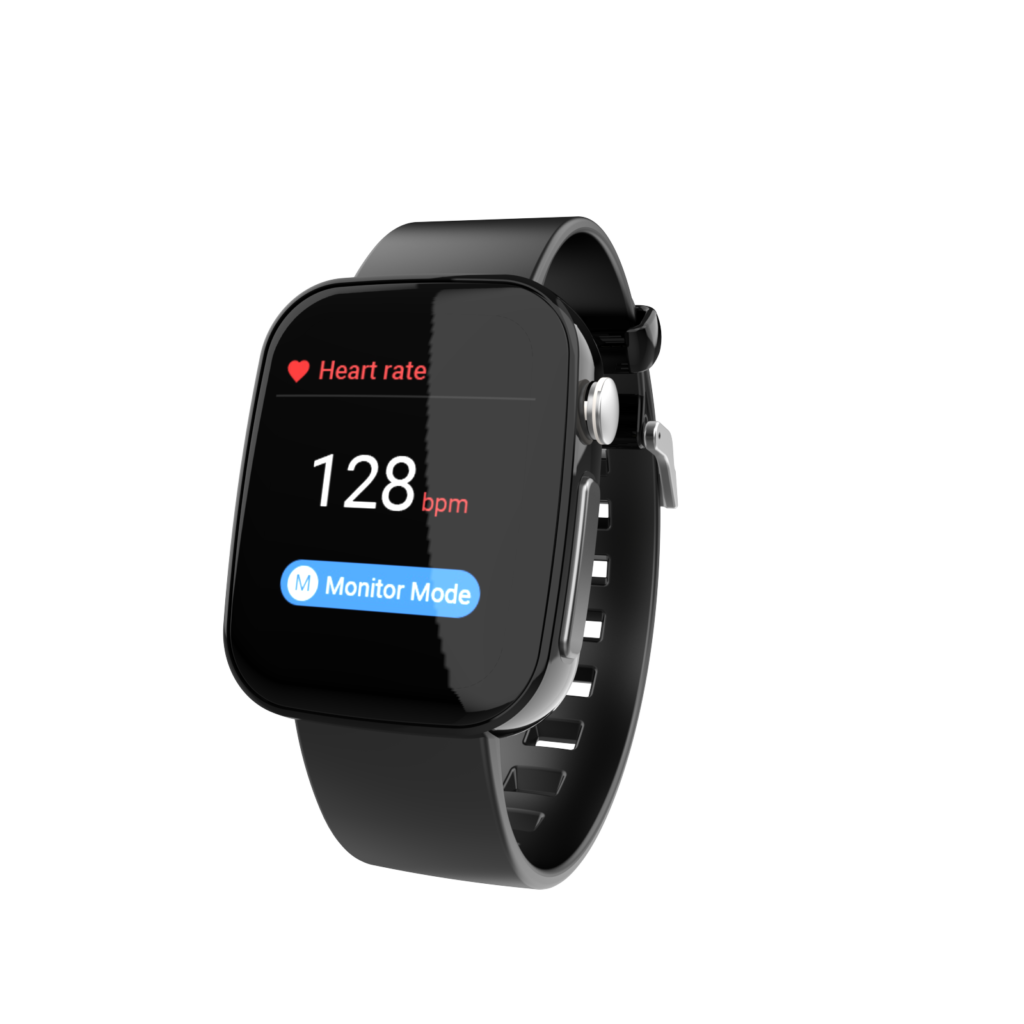 Crafted by Leading ECG Smartwatch Manufacturer- iSmarch
Welcome to the Next Evolution of Health & Fitness: Discover continuous, refined heart rate monitoring every second of the day. With state-of-the-art Photoplethysmography (PPG) technology, the X6 grants impeccable blood oxygen insights. Prioritize your heart health with our integrated ECG feature, and rest assured as our device diligently gauges respiratory rates with precision. Experience our temperature feature capturing both core and ambient readings.
X6 and the Pursuit of Heart Health:
Our dedication to quality is evident in our sensor choice, a commitment shared with tech giants like Apple. Our collaboration with the distinguished Chinese Academy of Sciences has propelled our ECG algorithms to new heights. While it may not replace hospital-grade devices, the X6's compact accuracy is a testament to modern tech and has garnered global scientific endorsements.
Beyond Standard Health Metrics:
Though our blood pressure feature is groundbreaking, we prioritize transparency regarding its precision. Access fatigue metrics every morning, and deep dive into stress analytics powered by HRV. With a 25HZ sampling rate for HRV/RRI and compatibility for tech integration, the X6 is truly in a class of its own.
Seamless Data Management & Connectivity:
Keep track of your health metrics with a week's storage capacity. The X6 makes sleep analysis simple and precise, while its motion sensors provide detailed insights after a Bluetooth link. Time synchronization is effortless, and for the tech aficionados, NFC is standard at 13.56MHZ/M1. Prioritize safety with our SOS feature and experience lightning-fast 300MS Bluetooth BEACON broadcasting.
Tech Specs & Design:
Embrace elegance and functionality with our sleek design: 43*34*13mm, and a feather-light weight. Experience superior temperature readings and be powered by the NORDIC NRF52840 chipset. The X6's visual delight is a 1.3-inch TFT IPS display, with swift Bluetooth 5.2 connectivity.
Sensor & Battery Excellence:
Step counting is made accurate with our G-Sensor, and an array of sensors amplifies the X6's prowess. A 260MAH battery ensures longevity, and with a unique charging method, you're powered up in two hours. Continuous heart rate monitoring stands uninterrupted, and the X6 boasts an IP68 rating, ensuring it's ready for any adventure.
Customization & Professional Adaptability:
The X6's strength lies in its adaptability. Whether you require expansive data storage or raw EDA/GSR data for mental health insights, the X6 delivers. Professionals can unlock the device's potential with J link access and our standard SDK ensures custom app development is hassle-free.
X6: The Beacon of Health Tech Innovation: Within the dynamic world of healthcare, the X6 stands as a symbol of progress. It's a holistic tool, from Chronic Disease Management to Mood and Stress analytics. With elite sensors and the renowned ECG feature, the X6 redefines personal health tech.
The X6 isn't just a gadget; it's an adaptable platform waiting for you to unlock its potential. Experience health and fitness in a transformative way with the X6.
Discover the Tech Behind the X6. Contact Us Now for In-depth Insights