Your One-Stop Healthcare Smartwatch, Senior Care, Telemedicine Management Solution Providers
Introduction: Innovative Health Care Solutions
Are you in search of innovative solutions that revolutionize healthcare, telemedicine, and senior care? Welcome to iSmarch, where we're breaking new ground in the fusion of healthcare and technology. We specialize in developing state-of-the-art, customizable healthcare wearables that are designed to transform patient care and significantly improve health outcomes.
Our smart health smartwatches are more than just timepieces; they are comprehensive patient health monitoring devices that empower healthcare providers, senior care providers, and families with real-time data and one-button SOS alerts to ensure the best care possible for their patients or loved ones.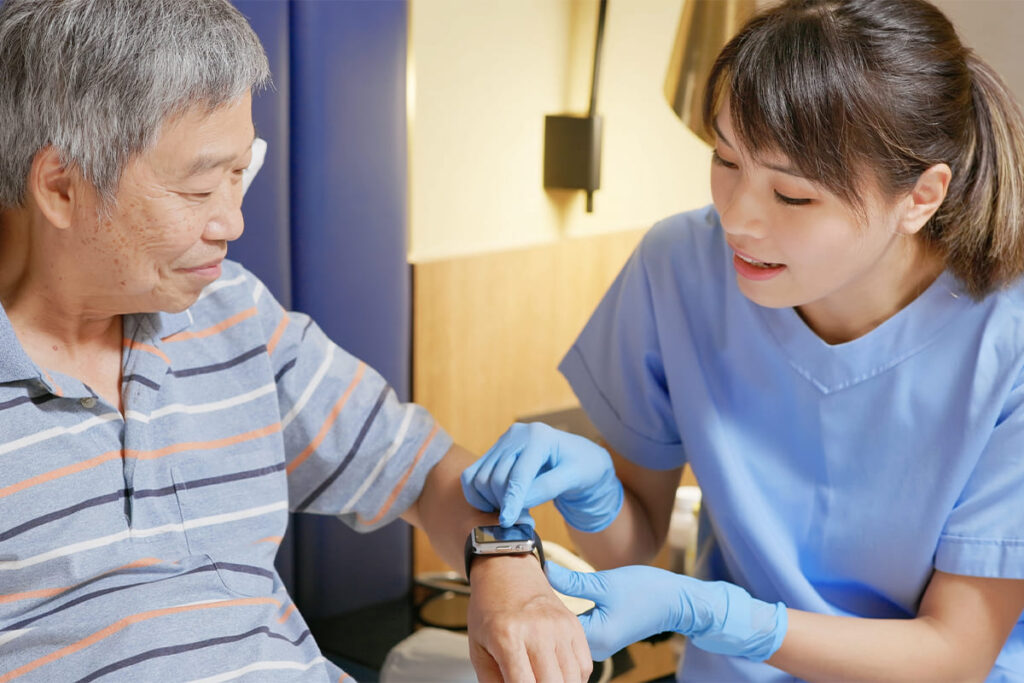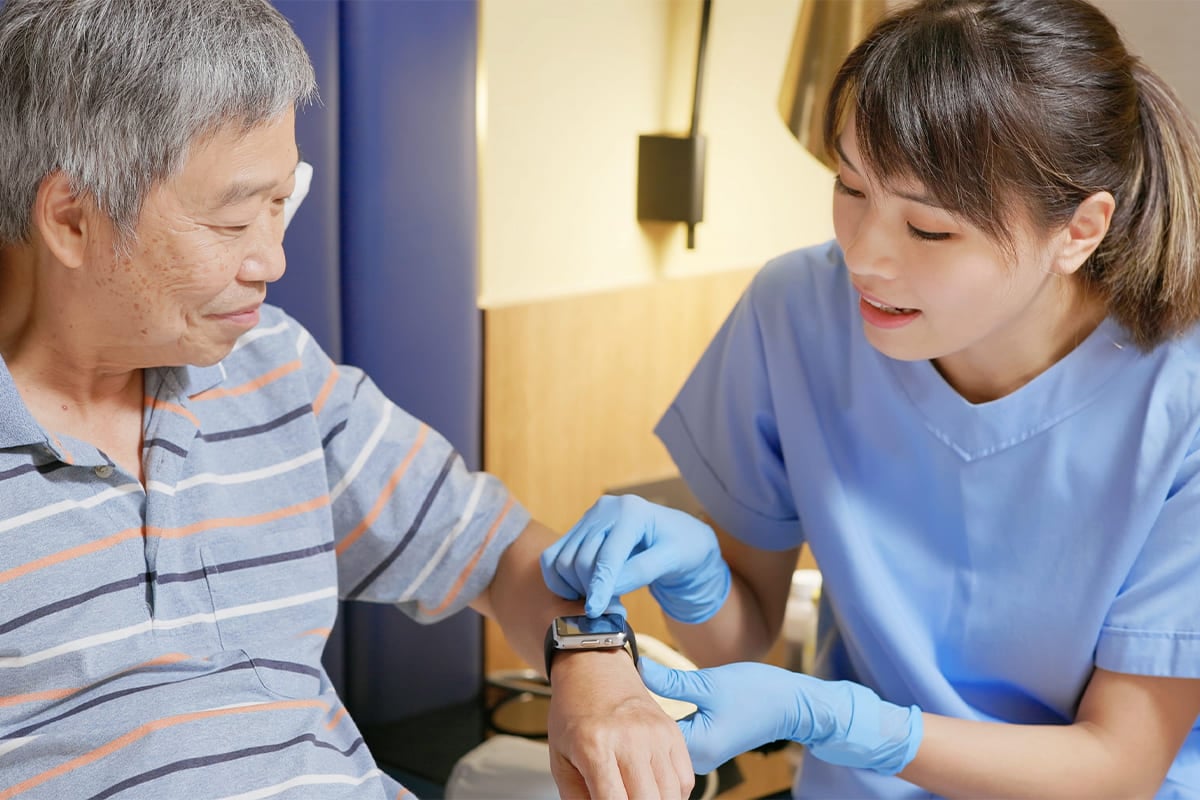 Key Features Of Our Customizable Healthcare Wearables
Our patient health monitoring devices are engineered to become an integral part of your health management regimen, packed with an array of features designed to provide comprehensive health monitoring.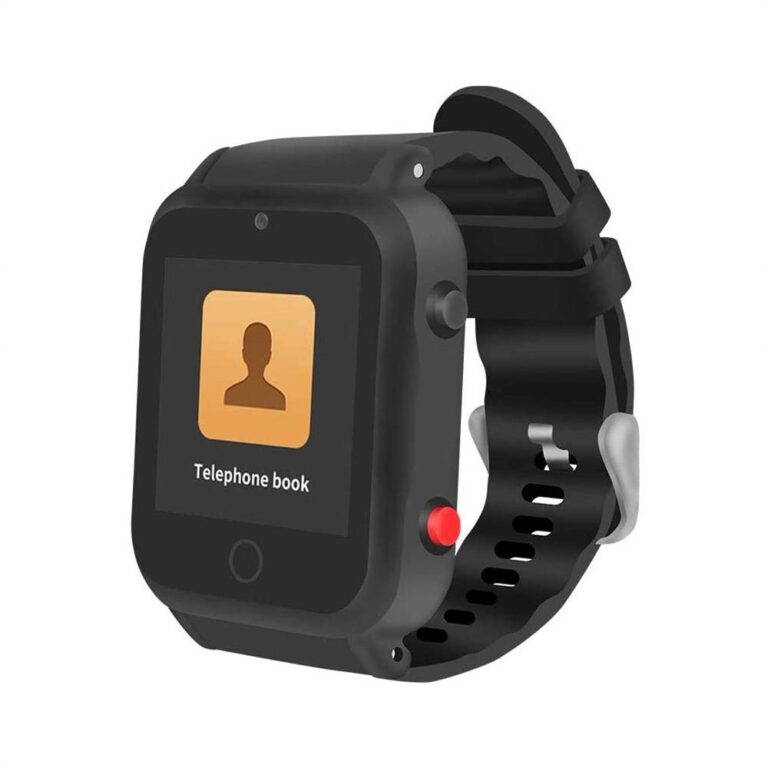 Each of these features is designed to enhance the level of care you can provide, ensuring your patients or loved ones are safe, healthy, and monitored 24/7.
Healthcare Solution Smartwatch Categories Ready For you
Whether your need is for remote monitoring, post-surgery tracking, or chronic disease management, our globally-compatible 4G Senior Care Watch Series, versatile Android Smartwatch Series, and adaptable Bluetooth Smartwatch Series are ready to meet your requirements. Moreover, we understand the unique demands of healthcare scenarios and offer the flexibility to customize functionalities or develop completely new modules, ensuring a perfect fit for your specific service delivery needs
.
4G/CAT1 Senior care watch Series
With off-the-shelf or customizable options, our globally-compatible 4G Senior care watch series cater to a variety of use cases, ensuring the highest level of care and safety. Our standout advantage lies in our ability to combine large battery capacities with lightweight, comfortable designs, offering a unique blend of convenience and long-lasting performance
.
The iSL03 4G GPS Tracker, one of our premier offerings, is a robust device that delivers superior tracking, communication, and safety features. This device's 4G full network support ensures reliable and wide-reaching connectivity, making it a dependable companion wherever you are in the world.
One of its standout features is the one-button SOS alert. In an emergency, a single press immediately sends an alert, offering a potentially life-saving line of communication when it's needed most. This feature can be crucial in various scenarios, such as lone seniors, children on their way to school, outdoor adventurers, or workers in high-risk environments.
With a long-lasting 1000mAh battery, the iSL03 GPS Tracker guarantees extended operation, reducing the need for frequent recharging and ensuring continuous safety monitoring. Its IP67 waterproof rating adds another layer of durability, making it an ideal choice for individuals leading active lifestyles or for tracking assets exposed to outdoor elements.
Our iSL03 4G GPS Tracker is a versatile, reliable, and safety-focused device suitable for personal safety, child protection, elderly care, and asset tracking.

iSL16 4G Senior Care Tracking watch
Our iSL16 4G Senior Care Tracking Watch is a revolutionary device purpose-built for ensuring the safety, health, and connectivity of seniors. It offers seamless global connectivity, supporting networks in most countries, making communication with family and friends effortless through 4G calls and voice chat. A simple push of a button triggers an SOS alarm, providing an instant lifeline in emergencies.
The watch doesn't stop at safety; it's a comprehensive health management tool. With high-precision monitoring of heart rate and blood pressure, coupled with health reports, it offers detailed insight into the wearer's well-being. What sets our tracker apart is its precise GPS positioning, utilizing GPS, AGPS, LBS, and Wifi for accurate location tracking, ensuring your loved ones are always safe.
One of its main advantages is the impressive 7-day standby time, reducing the need for frequent charging, a convenience particularly appreciated by seniors. This watch is more than a tracking device – it's a companion, a guardian, and a communication tool, perfect for elderly individuals living independently, caregivers offering remote services, and healthcare organizations looking for a reliable health monitoring solution. With our 4G Senior Care Tracking Watch, caring for seniors becomes a bit easier, safer, and more connected.

iSL17 4G health position smart bracelet
Our iSL17 4G Health Position Smart Bracelet is an exceptional blend of technology and healthcare. Sporting an easy-to-navigate interface on a lightweight design, this device offers around-the-clock health monitoring through features such as heart rate, blood pressure, body temperature, and blood oxygen level tracking. These parameters can be conveniently managed and reviewed through a user-friendly app, making health management a seamless process.
Where this smart bracelet shines is its safety measures. It features a one-touch SOS alert button, instantly notifying predefined contacts in case of emergencies. Additionally, it sends out abnormal alarms when it detects significant deviations in health parameters, thus acting as an early warning system for potential health issues.
Equipped with a large speaker, it delivers clear voice announcements, a feature particularly beneficial for individuals with visual impairments. What sets our smart bracelet apart is its advanced positioning system, leveraging GPS, LBS, Wifi, and G-Sensor technology, which guarantees accurate location tracking.
With an impressive 7-day standby time, it offers convenience by reducing the need for frequent charging. Whether it's for personal health monitoring, elderly care, or for use in a healthcare facility, our 4G Health Position Smart Bracelet integrates well into various scenarios.

iSmarch's L8 4G GPS Watch is a comprehensive health and safety solution designed for multiple scenarios. Thanks to its GPS and WiFi capabilities, it ensures accurate real-time location tracking, providing an added sense of security for the wearer and their loved ones.
A significant feature of the L8 4G GPS Watch is its robust health monitoring system. With its high-precision thermal conductivity temperature sensor, it provides accurate body temperature readings, while the new generation biosensor technology offers real-time monitoring of heart rate and blood pressure, giving users the power to stay on top of their health. Furthermore, the American medical-grade oxygen saturation chipset enables independent blood oxygen monitoring, ensuring comprehensive health monitoring.
Additionally, the watch helps to track sleep patterns, providing insights for improving sleep quality and overall well-being. It's also equipped with a GEO-fence feature, allowing you to create predefined safe zones, with alerts if these boundaries are breached.
The L8 4G GPS Watch is particularly beneficial in post-operative monitoring scenarios, where remote tracking of vital signs and location is crucial for patient safety and recovery. In elderly care settings, especially within advanced care facilities, the watch provides peace of mind by allowing caregivers to monitor the health status and location of residents.

The iSL08 4G GPS Watch, a remarkable offering from our product line, is an all-inclusive personal health and safety device that combines real-time tracking, health monitoring, and emergency alert capabilities. Providing extensive coverage through its 2G, 3G, and 4G network support, this smartwatch ensures a dependable connection across most countries globally.
Our iSL08 GPS watch takes health tracking to the next level. It meticulously measures critical health metrics such as blood oxygen levels, body temperature, heart rate, and blood pressure, offering users a comprehensive understanding of their health status in real-time.
In case of emergencies, the SOS alarm feature in our GPS watch serves as a crucial safety measure, establishing a direct line of communication for immediate assistance. The precision of the watch's location tracking, thanks to its advanced GPS, WiFi, LBS, G-Sensor, and AGPS technologies, ensures accurate location information during critical moments.
Additionally, the Geo Fence feature allows for the creation of virtual safe zones, offering peace of mind by alerting users when these boundaries are breached. This feature finds immense utility in monitoring the movements of children, elderly individuals, or company assets.
Our iSL08 4G GPS Watch is an adaptable solution that delivers substantial benefits across various scenarios. Whether it's personal health monitoring, ensuring the safety of elderly individuals, tracking children, post-operative monitoring, or overseeing company assets, the L08 GPS Watch serves as an invaluable tool for enhancing safety, well-being, and efficiency.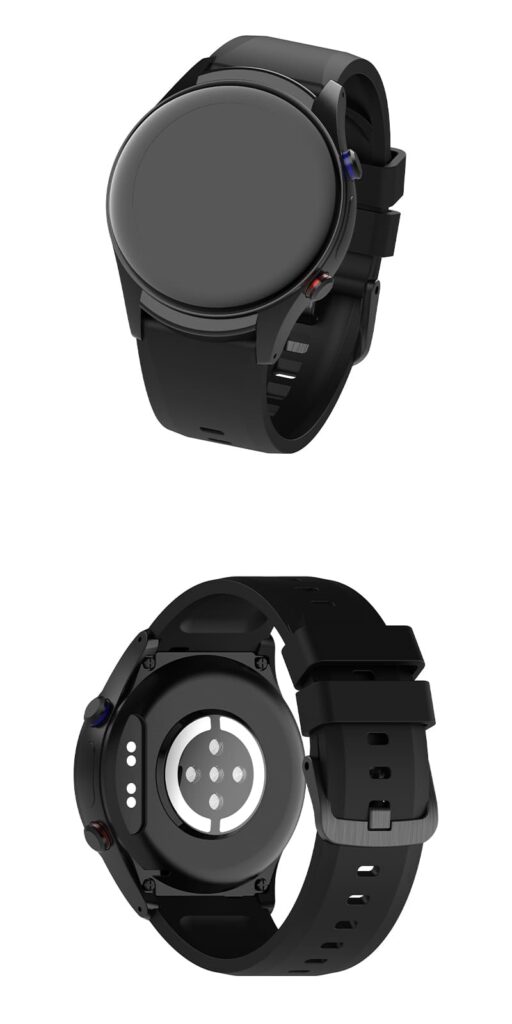 Android 4G Smartwatch Series For Senior Care
As the original solution provider for Android smartwatches, we have pioneered and developed all functionalities available in the market today. Choose from our ready-made models or opt for customization to meet your unique needs. Our Android smartwatches offer seamless integration with your apps, opening new avenues for efficient health monitoring and data management.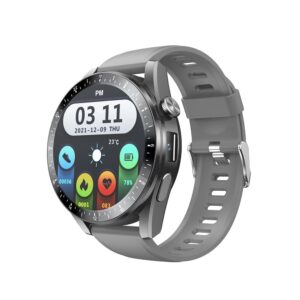 iSA1 Android 4G Smartwatch
Our iS01 Android 4G Smartwatch, compatible with 4G networks, is equipped with GPS, WiFi, and a G-sensor. It offers health management features like blood oxygen and temperature monitoring, as well as heart rate and blood pressure tracking, facilitating real-time health assessment. With passive NFC access control, it enhances security and convenience in various applications, such as access to buildings or use of public transport.
Additionally, the iS01 watch can connect with mobile apps and your devices, allowing your users to easily manage their health data and receive alerts on their smartphones, particularly those with chronic conditions, as they can monitor their health status conveniently and seek timely medical assistance when needed. Which is an excellent choice for healthcare providers, patients, senior citizens, and anyone in need of comprehensive health tracking and convenient access control.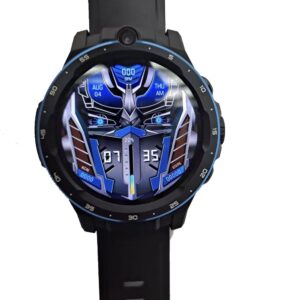 iSA2 Android 4G Smartwatch
iSmarch' iSA2 Android 4G Smartwatch is a versatile tool for personalized health management. With 4G network and integrated GPS, WiFi, and G-sensor technologies, it offers real-time, accurate data tracking. The smartwatch monitors blood oxygen levels, body temperature, heart rate, and blood pressure, providing valuable insights for those managing chronic conditions or undergoing post-surgery recovery.
The watch's compatibility with a variety of applications makes it customizable to your needs, offering a tailored solution to health providers.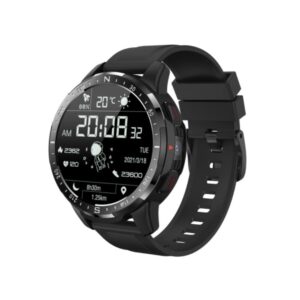 iSA3 Android 4G Smartwatch
Our iSA3 Android 4G Smartwatch epitomizes the seamless integration of technology and healthcare. Featuring robust 4G network support and advanced GPS, WiFi, and Bluetooth 5.1 functionalities, it ensures optimal connectivity and precise health tracking. It comes with a G-sensor and capabilities to monitor blood oxygen, body temperature, heart rate, and blood pressure, offering comprehensive health insights at your fingertips.
With its compatibility with various apps, the iSA3 provides personalized health management, making it an ideal solution for health providers with chronic conditions or in the post-surgery recovery phase. It's an effective tool for remote monitoring, providing healthcare professionals with reliable, real-time data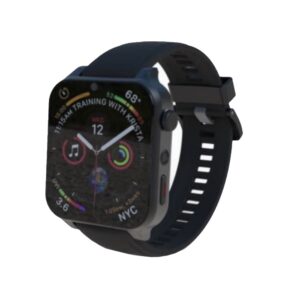 iSA4 Android 4G Smartwatch
Embrace a superior healthcare monitoring experience with the iSA4 Android 4G Smartwatch. Its robust 4G network support, coupled with GPS, WiFi, and Bluetooth functionalities, facilitates constant connectivity, enabling users to maintain their health regimen without interruptions.
With its G-sensor to monitor blood oxygen levels, heart rate, and blood pressure, the iSA4 Android Smartwatch offers a complete health management solution. Furthermore, its compatibility with various applications allows for bespoke and intuitive health monitoring. This smartwatch is ideal for a range of scenarios, from managing chronic health conditions to assisting in post-surgery recovery.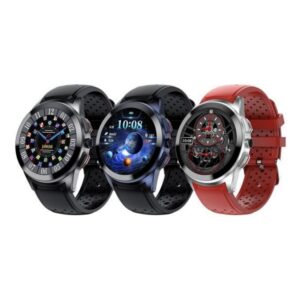 iSA5 Android AMOlED 4G Smartwatch
As a comprehensive health management tool, the iSA5 Android 4G Smartwatch effortlessly merges technology and health. With its power-efficient AMOLED display, it promotes longer usage and connectivity. Its 4G network support, supplemented by GPS, WiFi, and Bluetooth, offers superior connectivity options that keep you up-to-date with your user's health data at all times. Vital signs such as heart rate, blood oxygen levels, and blood pressure are closely monitored.
Moreover, its G-sensor and support for various apps ensure customizable health tracking. The addition of a motor and button further enhances user-friendliness and interaction. This makes the iSA5 an optimal choice for remote patient monitoring, care centers, and any situation that requires real-time positioning and data transmission.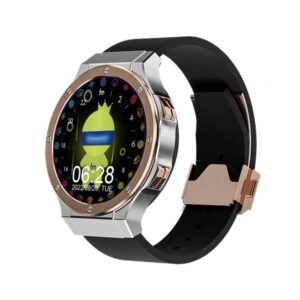 iSA6 Metal Android AMOLED Smartwatch
Distinguished by its exquisite metal exterior – a rarity in the realm of Android system watches, the iSA6 Metal Android AMOLED Smartwatch stands as an epitome of class and functionality. Its energy-efficient AMOLED display ensures longevity of usage, offering your users continuous access to health data.
The smartwatch provides robust connectivity through GPS, WiFi, and Bluetooth, ensuring your users' health parameters are consistently monitored and accessible. From tracking vital signs like blood oxygen levels, heart rate, and blood pressure, to activity tracking enhanced by a built-in 3-axis G-sensor, this smartwatch offers comprehensive, real-time health data. It also supports various apps, boasting features such as a motor and a button for user-friendly interaction.
Notably, the iSA6 does not support 2G, 3G, or 4G networks, making it particularly suitable for scenarios where network data transmission is not required. This could be the perfect solution for senior care facilities , where your own equipment and data transmission infrastructure are already in place. Its self-contained operation, coupled with superior design and functionality, makes the iSA6 a compelling choice for your healthcare solution.
Bluetooth Smartwatch Series For Senior Care
Our Bluetooth Smartwatch Series harnesses the power of Bluetooth technology to offer seamless connectivity and real-time health monitoring. Perfect for varied health scenarios including remote patient monitoring, elderly care, or fitness tracking, these watches are versatile and precise. With our ready-to-use models or customized options, managing health data becomes straightforward and efficient.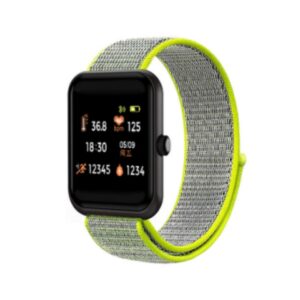 X3plus Bluetooth SmartWatch
The X3plus Bluetooth SmartBracelet, equipped with a 12-axis sensor, provides precise tracking of vital health metrics including blood oxygen saturation (SpO2), body temperature, blood pressure, and heart rate variability (HRV). With its ability to monitor social distancing, step, and sleep patterns, and even stress levels, this device caters to today's health-focused environment.
Enhanced with features like NFC and optional Bluetooth Gateway support, it offers wide-ranging applications from remote patient care and personal fitness tracking to enforcing social distancing in schools or workplaces. As part of our commitment to holistic health solutions, the X3plus stands as a comprehensive tool for anyone seeking to enhance personal well-being or health care providers aiming to deliver efficient remote care.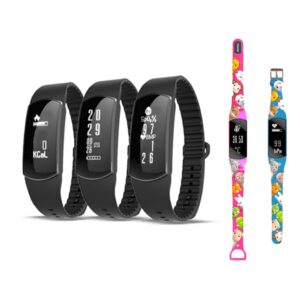 SH09-HTO2 Bluetooth SmartBracelet
Designed with high-precision health metrics tracking, iSmarch's SH09-HTO2 Bluetooth SmartBracelet serves as a versatile tool for health management. It diligently records vital signs like heart rate, blood pressure, and blood oxygen saturation (SpO2) with a keen focus on precision and energy efficiency. With its ability to monitor body temperature, stress levels, and heart rate variability (HRV), it becomes a comprehensive health tracker.
Its unique ability to track social distancing makes it a valuable asset in maintaining health safety in public areas such as schools, offices, or healthcare centers. Features like step and sleep monitoring further enhance its value for personal fitness and well-being. The device supports SOS alerts, offering an added safety net for elderly users or those with specific health concerns.
With optional Bluetooth Gateway support, it can readily integrate into existing health monitoring systems, making it an excellent choice for healthcare providers.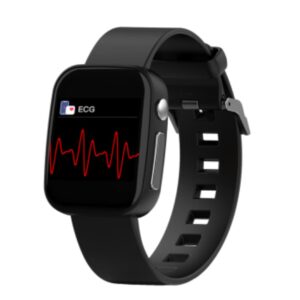 X6 ECG Bluetooth Smartwatch
Elevating health and wellness tracking to new heights, the X6 Bluetooth Smartwatch offers a complete health monitoring suite right on your user's wrist. Its ability to measure dynamic heart rate, blood oxygen saturation (SpO2), respiratory rate, and body temperature ensures that your user can accurately monitor vital health metrics on the go. Furthermore, the device is equipped with an ECG function, offering high-precision heart health insights that could be crucial in senior care scenarios.
Our X6 Smartwatch doesn't stop at merely tracking physical health parameters. It delves into wellness monitoring with features like stress and fatigue measurement, enabling users to maintain a balanced lifestyle. Its social distancing tracker adds a layer of safety in our post-pandemic world, making it an ideal choice for use in busy public settings or workplaces.
Should an emergency arise, the SOS feature provides quick assistance. Additionally, with optional Bluetooth Gateway support, the X6 can seamlessly fit into your existing healthcare system.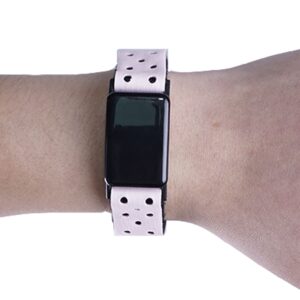 C1 Bluetooth Smart bracelet
Our C1 Bluetooth Smart bracelet is a comprehensive health management tool, meticulously designed for accurate monitoring of vital signs such as dynamic heart rate, blood oxygen, body temperature, and blood pressure. The device uses ultra-low power consumption technology to ensure that you always have access to vital health information, which is critical in healthcare settings like remote patient monitoring, elderly care facilities, and post-surgery follow-up centers.
The C1 Smart Bracelet stands out in the realm of healthcare solutions due to its unique features. It offers regional positioning and an SOS feature, making it an essential tool for health professionals and caregivers. Its capabilities extend to tracking physical activities and sleep patterns, further augmenting its usage in lifestyle management and preventative healthcare measures.
In addition to its broad suite of features, the C1 Smart Bracelet integrates seamlessly with the Bluetooth gateway, enhancing its connectivity for a streamlined user experience.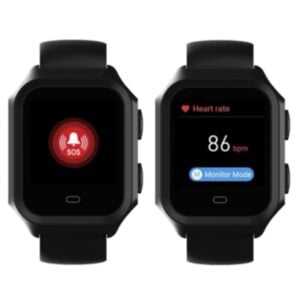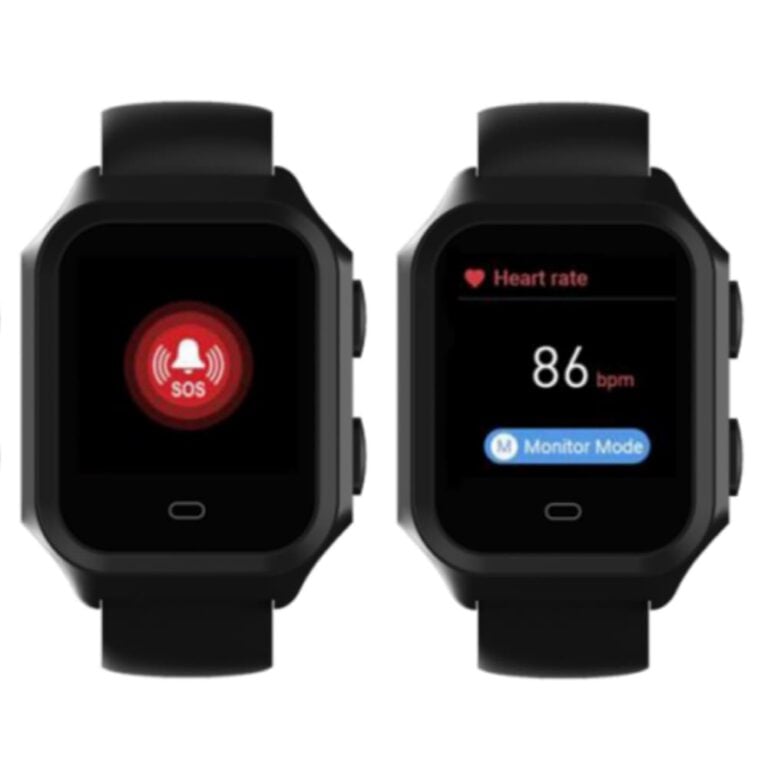 J3 Bluetooth + Lora Smart Watch
The J3 Bluetooth + Lora Smart Watch is a robust health monitoring device, offering comprehensive health parameters tracking. Equipped with precise sensors for heart rate, blood oxygen saturation (SpO2), blood pressure, body temperature, and Heart Rate Variability (HRV), it serves as an invaluable tool in contexts such as remote patient monitoring, elderly care centers, and post-operative care facilities.
Further, it provides valuable lifestyle insights with features like a fatigue monitor, pedometer, sleep tracking, and an SOS feature for safety. Uniquely, it integrates with LoraWAN Gateway, offering power-efficient and reliable long-range wireless communication, making it an excellent choice for scenarios demanding consistent connectivity.
Offering Diverse Operation system And Connectivity for Elderly Health Solutions
In the digital healthcare era, connectivity is the key. Our powerful networking technologies can adapt to different project requirements and collaborate with various devices to provide you with a comprehensive smartwatch solution tailored to your needs.
4G + RTOS offers a powerful and reliable solution for projects requiring real-time responses and data transmissions, such as critical care monitoring and emergency services. The integration of 4G and RTOS delivers a robust platform with exceptional multitasking capabilities, facilitating simultaneous tracking of multiple health parameters. With RTOS consuming less power than Android, your devices can boast of longer battery life, a crucial consideration for elderly users or those in need of continuous health monitoring. Therefore, if your project demands speed, reliability, battery efficiency, and real-time data processing, our 4G + RTOS solution is the optimal choice.
Android is a powerful, versatile, and customizable operating system. It's ideal for projects that require rich functionality, a broad range of third-party apps, and extensive customization, and can ensure both swift and reliable data transmission through 4G. This can be crucial for projects targeting tech-savvy users or those requiring multifaceted health applications such as telemedicine services, health data analysis, or multimedia communication for patient engagement. Therefore, if your project involves the integration of multifunctional health applications, our 4G + Android solution is an ideal choice.
Bluetooth connectivity is a cost-effective and practical solution for health data transmission. This connectivity solution combines the advantages of Bluetooth with a base station, enhancing the range and reliability of data transmission. Ideal for large care facilities or scenarios where the user might move within a large but defined area. The base station acts as a conduit between the Bluetooth device and a broader network, ensuring continuous data transmission even when the device is out of direct range.
Combining Bluetooth's localized connectivity with LoRa's long-range, low-power wireless platform creates a perfect solution for large-scale applications. Suitable for scenarios requiring low-power consumption and wide-area coverage, such as community health monitoring or remote patient management in large residential care facilities. This solution is particularly advantageous when monitoring multiple patients across a broad area while keeping power usage to a minimum.
The Power of Reliable and Real-Time Monitoring For Your Industry
Real-time health monitoring devices can be pivotal, often making the difference between routine care and immediate intervention. Our fall detection wearables, equipped with advanced sensors and superior connectivity, continuously transmit vital health data. From tracking heart rate fluctuations to detecting falls or monitoring sleep, this real-time data allows for an immediate response when required.
In critical situations, such as a senior living alone or a person with a history of heart disease, immediate access to health data can make a significant difference. Our GPS tracking smartwatches can alert caregivers or family members in real-time when emergencies occur, enabling swift response and intervention.
Chronic Disease Management
For patients with chronic conditions like diabetes or hypertension, continuous health monitoring is invaluable. Real-time data from our customizable healthcare wearables allows healthcare providers to monitor their patients' conditions closely and adjust treatment plans as necessary.
In the weeks following surgery, careful monitoring of a patient's vital signs and physical activity is critical. Our patient health monitoring devices provide an effective way to track these parameters in real time, offering healthcare professionals valuable data to aid the patient's recovery process.
Remote Patient Monitoring
For healthcare providers managing patients in remote or rural areas, real-time monitoring can help overcome geographical barriers, ensuring that patients receive the care they need.
Recommend Senior Care Solutions for Various Scenarios
Each care scenario has unique needs and demands, and our digital health assistants are designed to be versatile and adaptable, providing optimal configurations for a range of use cases.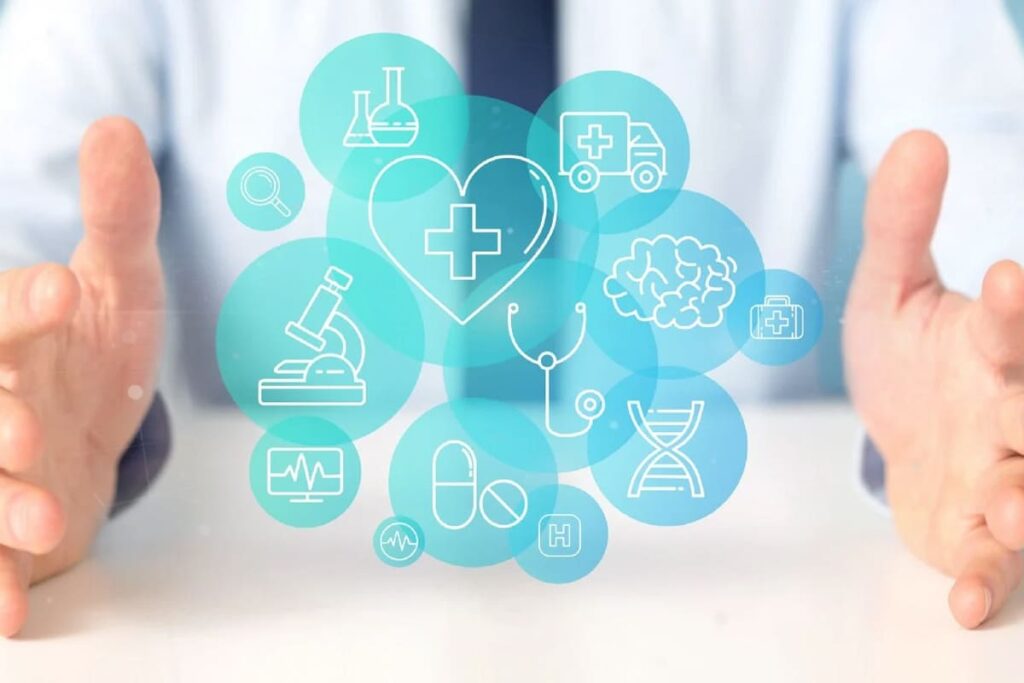 Chronic Disease Management
For those living with chronic conditions such as diabetes or hypertension, real-time monitoring of vital signs and health parameters is paramount. Our patient health monitoring smartwatches can be configured to regularly track these vitals, alerting both the user and healthcare providers to any significant changes or potential health concerns. The one-button SOS alert can also provide an easy way for patients to signal for help if they're feeling unwell or experiencing a health crisis.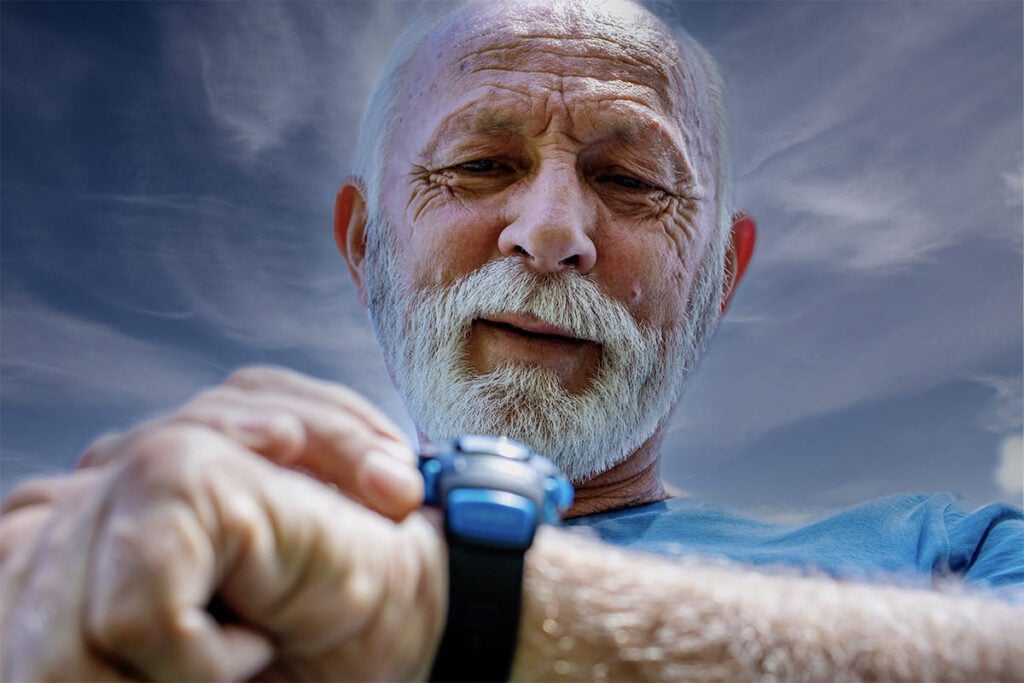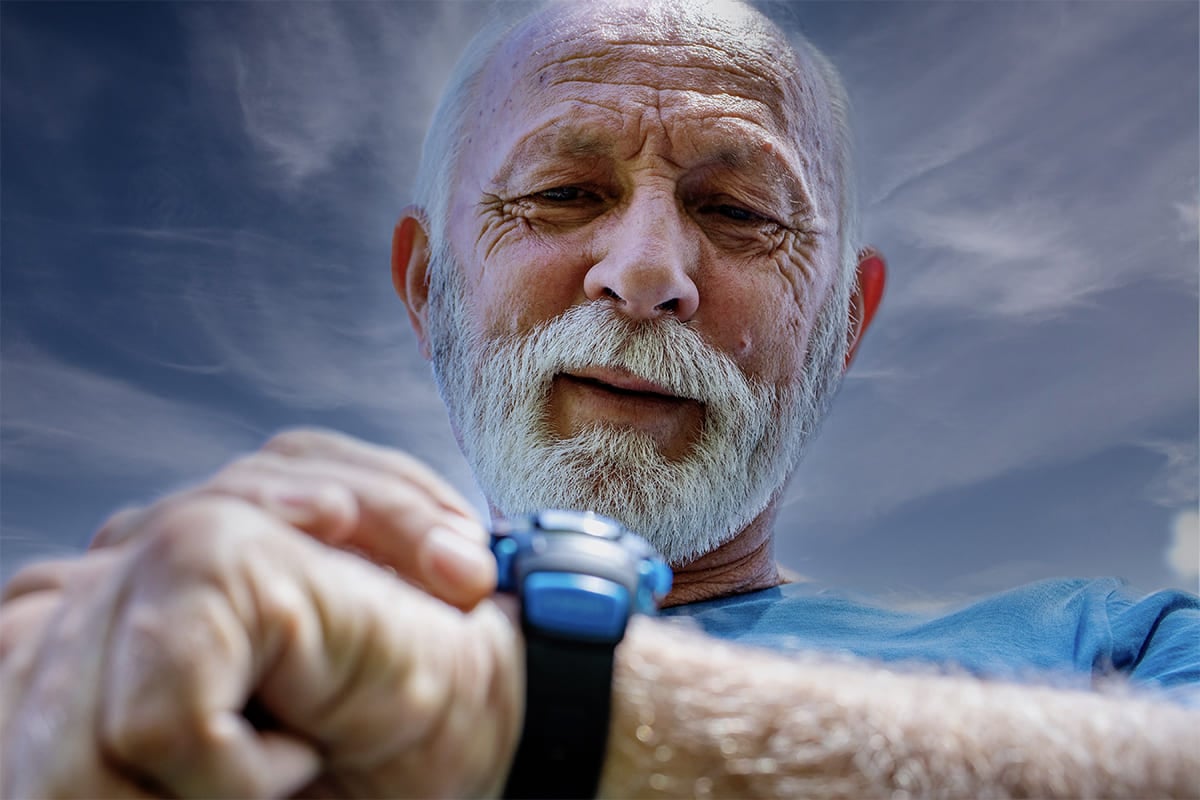 For seniors, especially those living alone, safety is a major concern. We can provide fall detection, GPS tracking, and GEO-fencing capabilities, ensuring quick response in case of accidents or if the senior wanders beyond the set safe zone. The one-button SOS alert also provides an instant connection to emergency services or caregivers, providing an extra layer of safety. Moreover, the easy-to-use interface and adjustable alert systems make it ideal for daily health tracking and reminders for medication.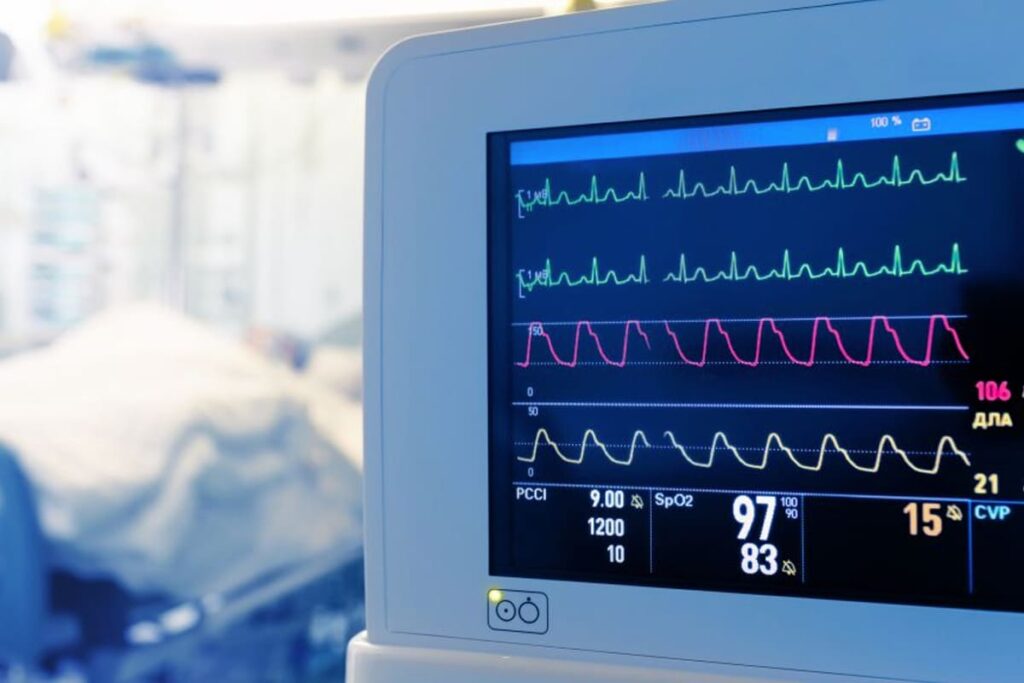 Post-Operative Monitoring
Following surgery, continuous monitoring of health parameters can significantly improve recovery outcomes. Our customizable healthcare smartwatches can be tailored to track parameters such as heart rate, blood pressure, and sleep quality, providing valuable data to healthcare providers for timely intervention and adjustment of care plans. In this scenario, the one-button SOS alert can be used to signal healthcare providers if the patient experiences unexpected pain or complications.
Customization Capabilities: Build Health Care Solutions Tailored to Your Needs
We believe that every healthcare provider, senior care institution, or family has unique needs and challenges. That's why we offer comprehensive customization capabilities for our smart health watches to meet your specific requirements.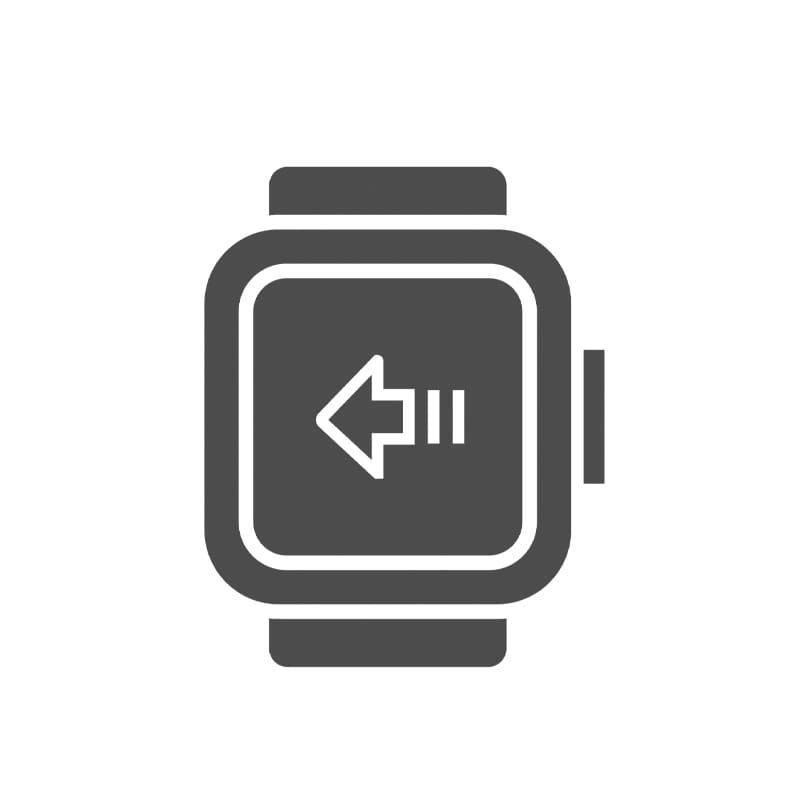 The demands of every healthcare scenario are unique. This could involve integrating a variety of sensors - from heart rate monitors to fall detectors and sleep trackers - based on your specific needs. We can also add functionalities like 4G, Wi-Fi, and Bluetooth as required. Additionally, we can customize the battery size to ensure the device has the optimal runtime for your needs.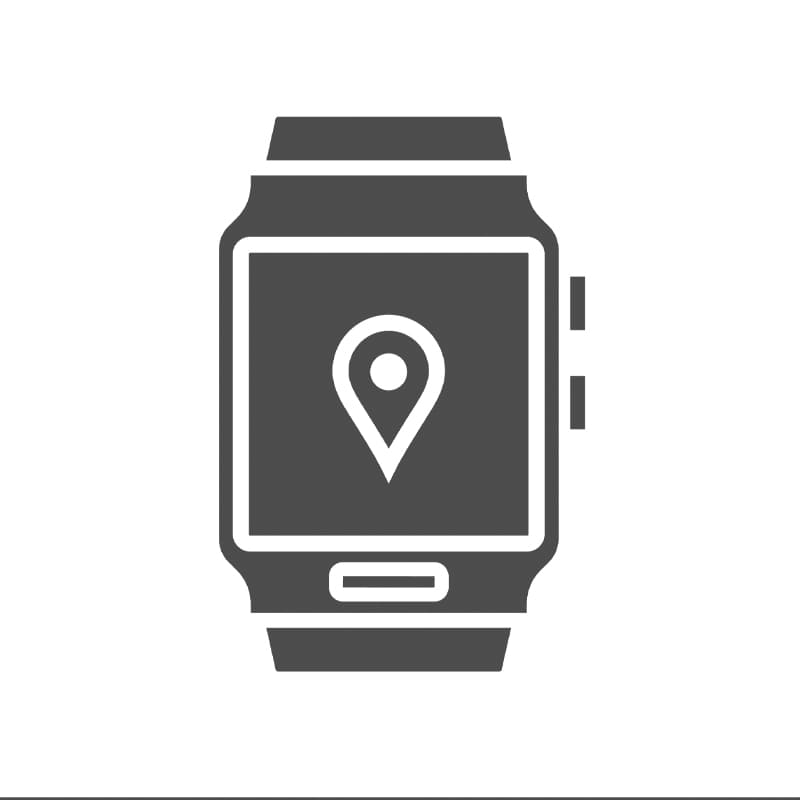 We understand that your software needs may be as unique as your hardware requirements. To cater to these, we can seamlessly integrate your applications into our smartwatches. We can also modify the software as per your requirements, adding or removing features as necessary. Further, we offer flexibility in choosing the operating system (Android or RTOS) depending on your specific requirements.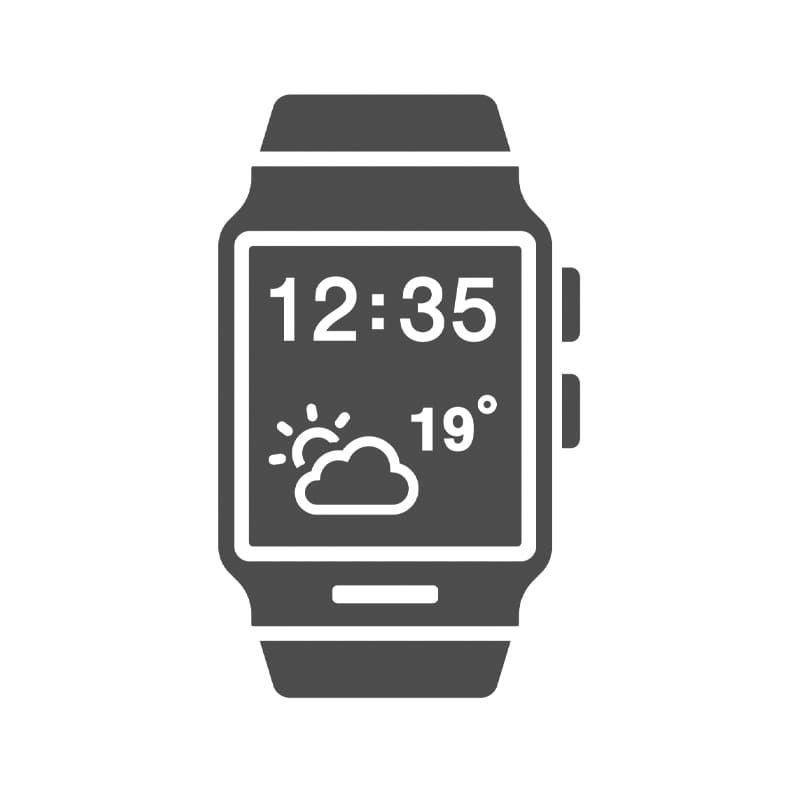 Your brand is important, and we aim to reflect that in every device we create. We offer a range of appearance customization options, from custom colors and logo branding to selecting the material for straps.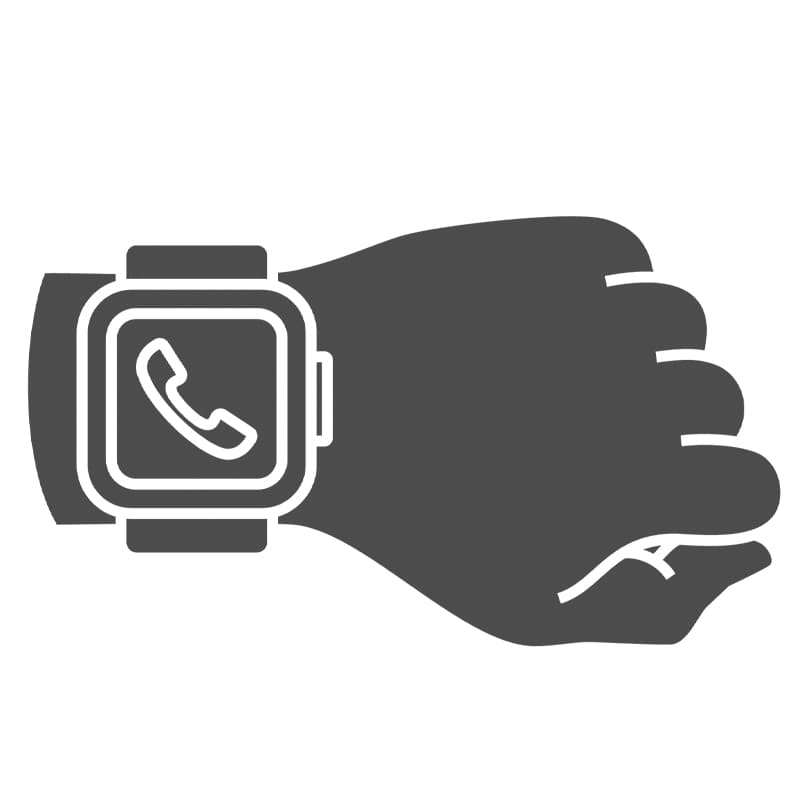 Heart Rate Sensor: This sensor provides real-time, continuous heart rate monitoring, suitable for tracking physical exertion during exercise or detecting abnormal heart rhythms.
Blood Oxygen (SpO2) Sensor: Useful for assessing respiratory function and overall health, this sensor measures the oxygen saturation level in the user's blood.
Body Temperature Sensor: It can play a vital role in remote patient monitoring, especially in detecting early signs of fever or infection.
Blood Pressure Sensor: This sensor offers valuable data for managing hypertension and other cardiovascular conditions.
Respiration Rate Sensor: It tracks the user's breathing rate, essential for assessing respiratory health and fitness levels.
Sleep Monitoring: By utilizing a combination of movement and heart rate data, it provides insights into the user's sleep quality and patterns.
Fall Detector: A critical feature for elderly care, it sends alerts to caregivers in the event of a fall.
GPS Tracker: Ideal for outdoor fitness activities or elder care, the GPS tracker provides real-time location data.
Accelerometer: Used for tracking physical activity and movement, the accelerometer is a crucial component for features like step counting, sleep tracking, and fall detection.
Gyroscope: Helps in determining orientation and rotation, enhancing the accuracy of movement-based tracking.
Magnetometer: Assists in detecting the direction of magnetic north, useful for navigation and positioning features.
NFC (Near Field Communication): NFC can support contactless payment applications or be used for seamless device pairing.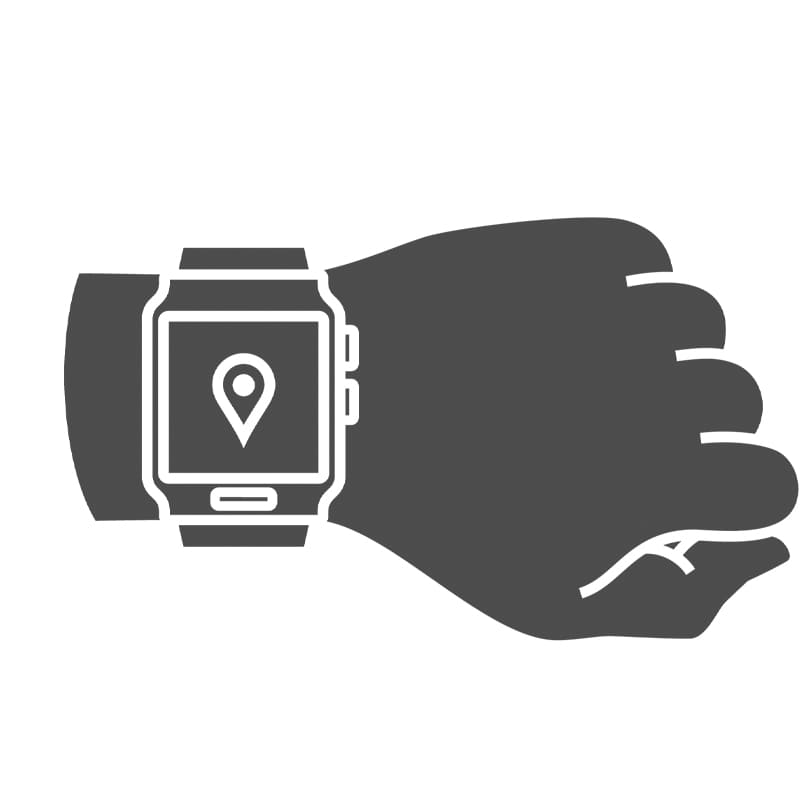 The production of our telemedicine smartwatches commences with the careful sourcing of high-grade components such as sensors, chips, and batteries from reputable suppliers. Once these parts are vetted for quality, our skilled team assembles them with precision on our state-of-the-art production line. With the hardware in place, we then install the chosen operating system and integrate any specific software applications required for your project.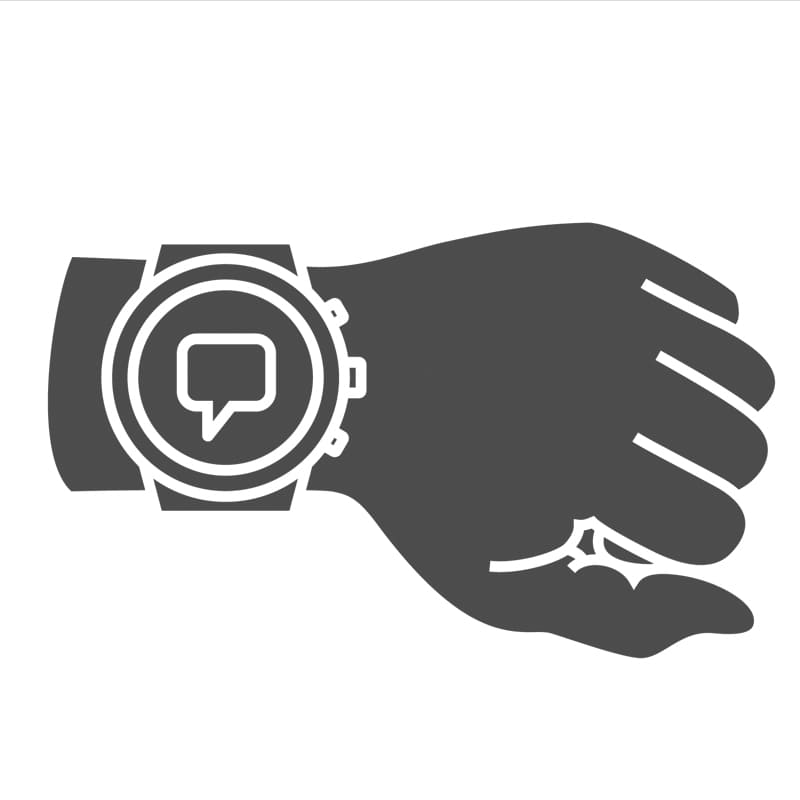 Quality Assurance and Testing:
Functionality Testing: We conduct thorough functionality tests to ensure that all integrated features, such as heart rate monitoring, fall detection, GPS tracking, and others, work as intended.
Precision Testing: For the critical features like heart rate monitoring and fall detection, we employ a multi-step testing process to ensure their precision. For heart rate monitoring, we compare the readings from our device with that of a medical-grade ECG under various conditions, including rest, exercise, and post-exercise recovery. For fall detection, we simulate numerous fall scenarios to measure the sensitivity and specificity of our system. Only when the results meet our stringent accuracy thresholds do we approve the device.
Durability Testing: We subject our devices to a series of durability tests, simulating various conditions to check their resistance against elements like water, dust, and impact. This ensures that our digital health assistant can withstand everyday wear and tear, and even some of the more strenuous situations that might arise in a healthcare or elder care scenario.
Aging Tests: To assess the longevity of our products, we conduct aging tests. These simulations provide insights into how our watches perform over extended periods of use, allowing us to ensure their sustained performance.
Tackling Industry Challenges: How to save power consumption
In the realm of healthcare wearables, power efficiency is a paramount concern. Balancing between the functionalities of a device and its power consumption can be a significant challenge.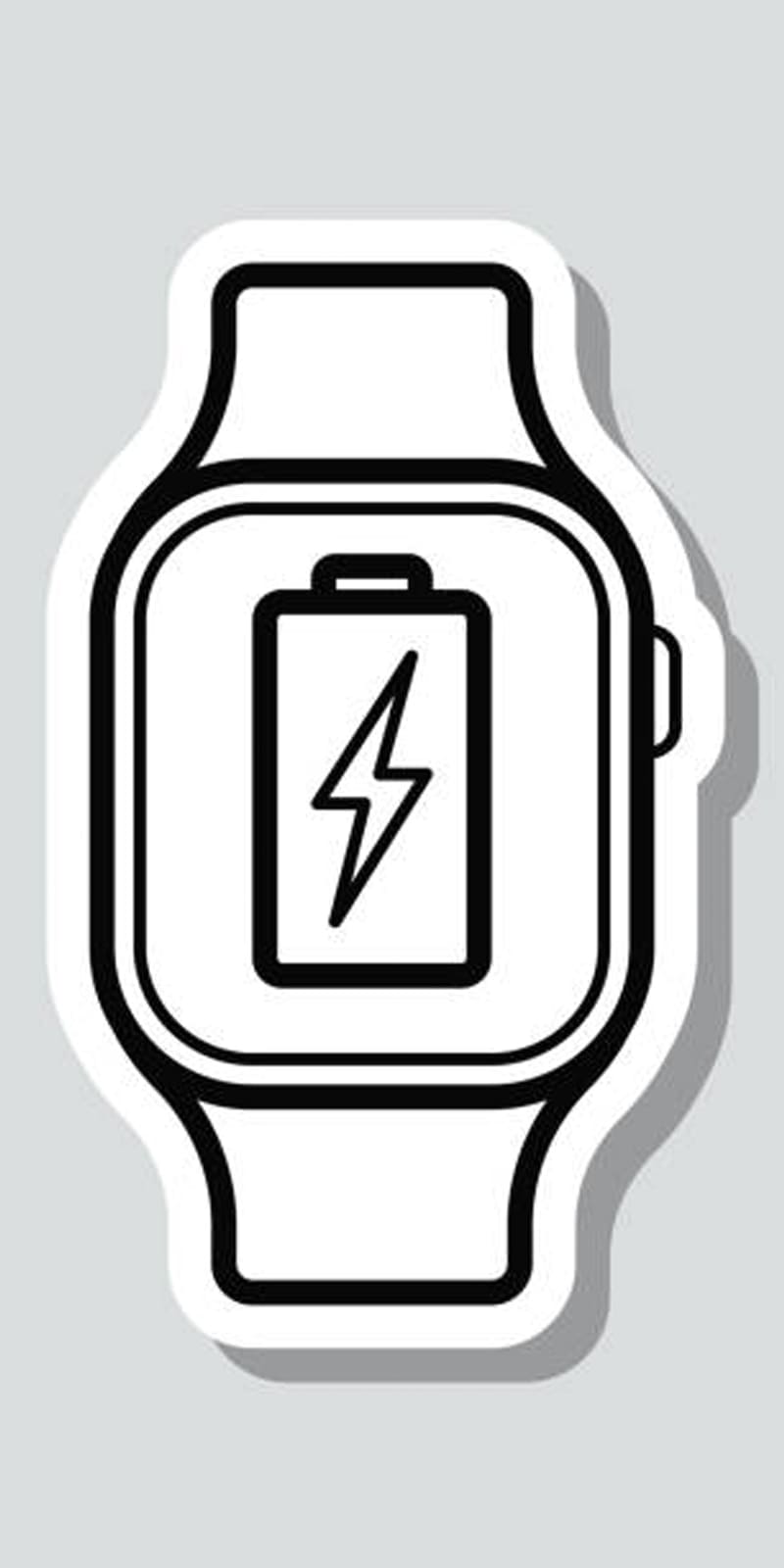 Success Stories from Senior care solution
Our telemedicine smartwatches have made a tangible difference in the lives of many. Through the practical application of our watches, we have helped individuals and healthcare providers overcome their unique challenges. Here are some of their stories:
Case Study 1: Senior Living Facility Overcomes Monitoring Challenges
A senior living facility was struggling with monitoring their residents' health in real-time. Staff were overwhelmed, and there was a rising concern among families about the well-being of their loved ones. The facility found us in their search for a solution. After understanding their challenges, we provided our patient health monitoring devices customized to their needs.
The watches, equipped with fall detection, one button SOS alert and heart rate monitoring, allowed the staff to have real-time health data of residents, enabling them to respond promptly to any health emergencies. Moreover, it gave the seniors a sense of independence and security. As a result, the facility saw a significant reduction in response times to emergencies, leading to improved resident health outcomes.
Customer Testimonial: "The smart health watches from iSmarch have revolutionized the way we care for our residents. The real-time health data and alert system have improved our response times to emergencies and have given our residents a newfound sense of independence." – Director of Senior Living Facility
Case Study 2: Chronic Care Clinic Enhances Patient Engagement
A chronic care clinic was struggling with patient engagement. Their patients often forgot to track their health data, leading to incomplete information and less effective treatment plans. They reached out to us for a solution.
We provided our easy-to-use smart health watches that automatically track and transmit health data in real-time. The clinic reported increased patient engagement as the watches were easy to use, and patients appreciated the constant health monitoring. It resulted in more informed clinical decisions and improved patient outcomes.
Customer Testimonial: "As a doctor, the constant and accurate health monitoring provided by iSmarch' smart watches has been invaluable. It has improved our patient engagement and health outcomes significantly." – Physician at Chronic Care Clinic
Most frequent questions and answers
Our smart health watches can monitor a range of health parameters, including heart rate, sleep patterns, blood oxygen levels. They also come equipped with fall detection and emergency alert systems. These features can be customized based on your specific needs.
Yes, our smartwatches are designed with user-friendliness in mind. The interface is easy to navigate, and all health data can be accessed with a few simple taps. We also provide comprehensive user guides and customer support to assist with any queries or issues.
Our smartwatches use advanced sensors and connectivity options to collect and transmit health data in real-time. We ensure high data accuracy through rigorous testing, including heart rate tests.
Absolutely. Our smartwatches are designed to seamlessly integrate with existing healthcare systems.
We do provide samples for evaluation purposes. Please reach out to our sales team, who can guide you through the process of obtaining a sample.
We offer extensive customization options for our smartwatches. The MOQ for customized products depends on the specific requirements and the extent of customization needed. Please connect with our team to discuss your specific needs and understand the corresponding MOQ.
The manufacturing time for customized orders depends on the order quantity and the specifics of the customization. Our team will be able to provide a more accurate timeline once they have all the details of your order.
Interested in our health smartwatches? Excited about tailor-made solutions for your needs? Reach out to us now!
Let's collaborate to revolutionize healthcare, creating solutions that truly make a difference. We're eager to hear from you and kickstart a fruitful partnership.