LoRa & LoRaWAN Watch Solution
Your IoT Smartwatch Manufacturer
Supplier in China Since 2014
1. iSmarch LoRa Watch J3 square smartwatch
J3 LoRa+ GPS+Heart Rate + Blood Oxygen+Body Temperature + HRV(RRI) Smart Watch
BLE5.2+LORAWAN(868MHZ & 915MHZ ISM Band)+GPS;
Blood Oxygen Saturation (SpO2): Photoplethysmography (PPG) reflected light blood oxygen (red & light + infrared light)
Body Temperature: Support
Heart Rate: Support Static heart rate + dynamic heart rate
Blood Pressure: Support (not allowed, used with caution, not responsible for accuracy)
Heart Rate Variablity(HRV): 25Hz sampling rate (higher sampling rate can be customized) supports both broadcast data acquisition and Bluetooth SDK (API) acquisition
Stress Level: Support (the higher the value, the greater the pressure, and vice versa) – HRV based algorithm
Fatigue Monitor: Support (the data of the day before 8 a.m. every day) – algorithms based on heart rate / sleep / HRV
Pedometer/Steps: Support
Sleep Monitoring: support
SOS: Support the long press of physical keys for 5 seconds to broadcast SOS = 1, which is received by the base station, and the cloud platform makes the corresponding processing mechanism
Sensor data(Gsensor/PPG RAWDATA ): (Yes Optional)
With Lora Gateway:
1. Support the uploading of vital signs data to the cloud platform through Lora base station (the default sending frequency is: send 1 packet of data in 5 minutes, including vital signs and GPS positioning data) (uplink data)
2. Support SOS to report to the platform through Lora Gateway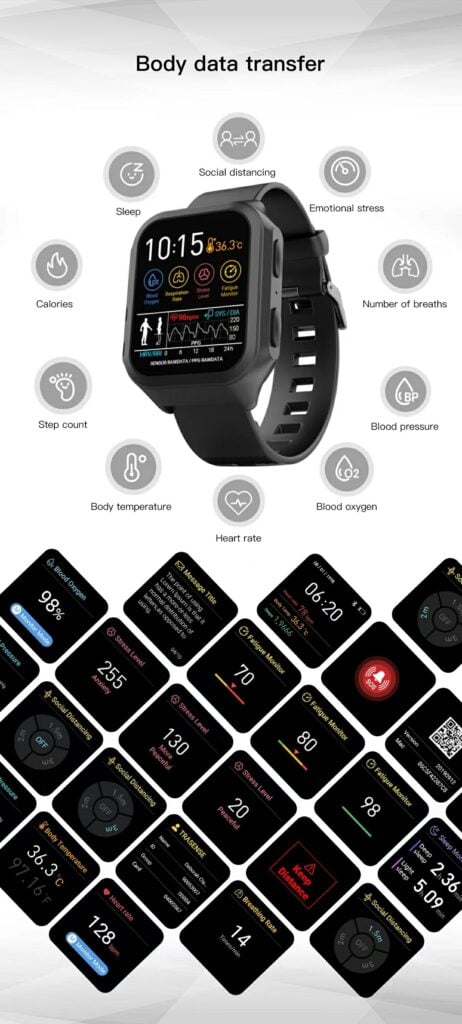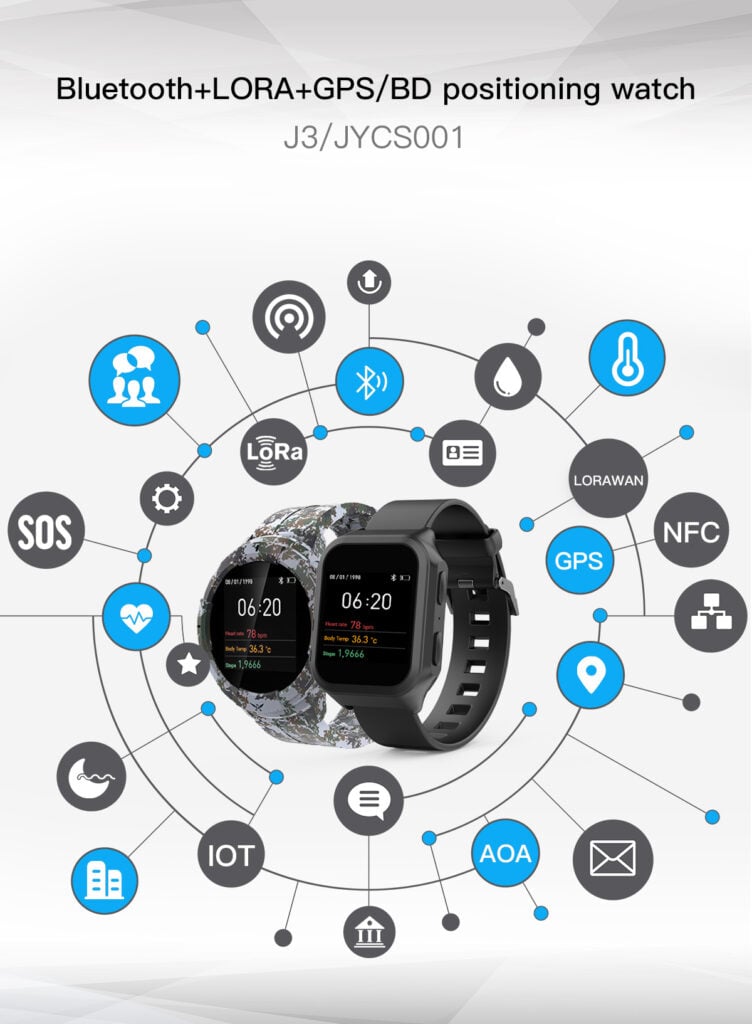 2. iSmarch J3/JYCS001 LoRa Wristband
Body temperature function description: Skin temperature detection.High thermal conductivity temperature sensor with built-in algorithm.the skin temperature of the wrist part Measurement range 36 degrees Celsius – 42 degrees Celsius
Device size(mm) without strap: 42.5*53*16.5mm
Weight Device without strap: 40g
Weight strap: 22g
Chipset Supplier: NORDIC NRF52840+Semtech LORAWAN Module
FLASH memory: 1MB FLASH
Display type: TFT
Screen size: 1.54nch
Resolution: 240*240
Touch Type: 2 physical keys (including SOS keys)–No Touch Key
3. iSmarch LoRa Wristband J3/JYCS001
G-Sensor: High-precision sensor, working with low power consumption
Body Temperature: Yes
Blood Oxygen Saturation (SpO2)(PPG): Yes
Heart Rate(PPG): Yes
GPS: Yes
Battery size: 650mah
Charging Method: Magnetic charging
Charging time: 5 hours
Material: Case: Plastic; Strap:Silicon
Battery life: 7*24hours(Steps +Bluetooth+HeartRate Always on Without GPS and LORA)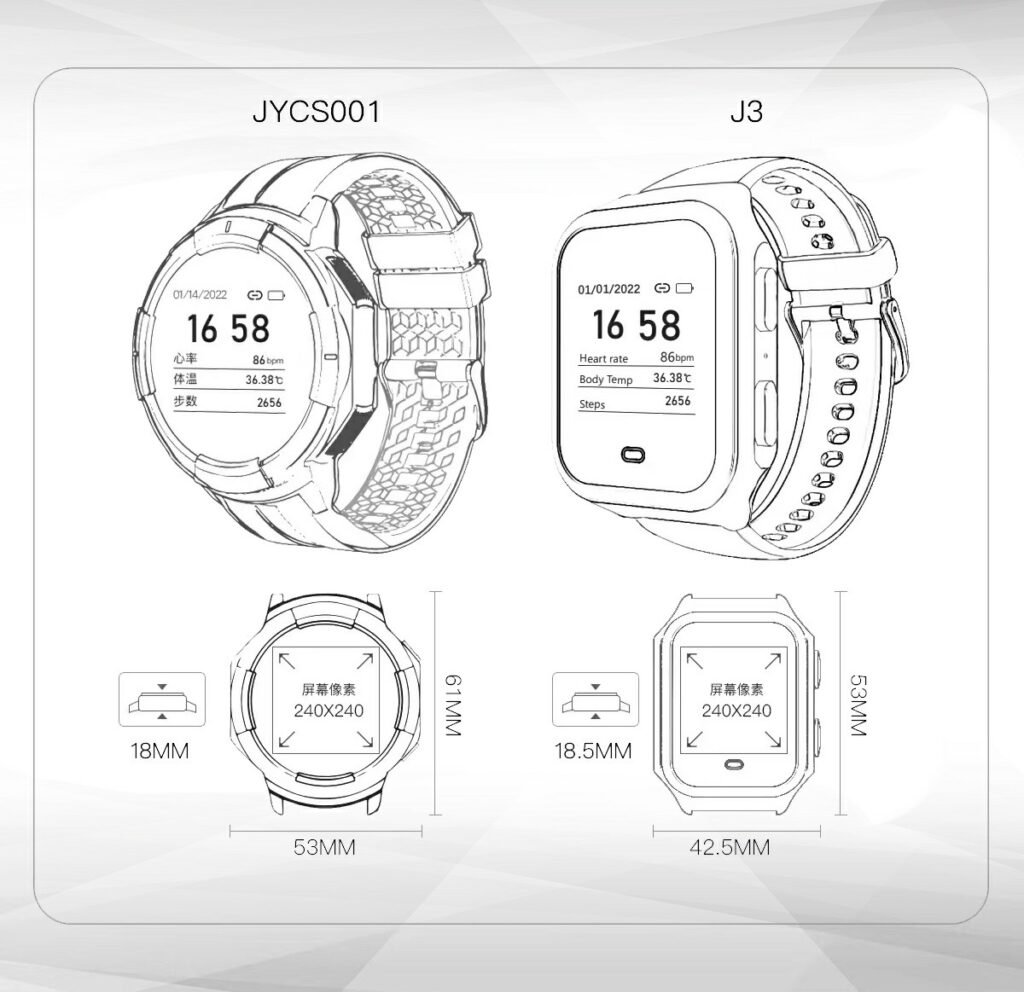 4. iSmarch LoRa Smartwatch Advantages:
Long distance transmission: 1km
Easy and quick to deploy
Safe, reliable, autonomous and controllable
Massive connection, easy maintenance
LoRaWAN is used as a WAN (wide area network) wireless network due to its extensive coverage capability.
J 3/Jycso01 can customize to LoRaWAN version for different IoT application.
Long distance wireless transmission
Low transfer speed
Low power consumption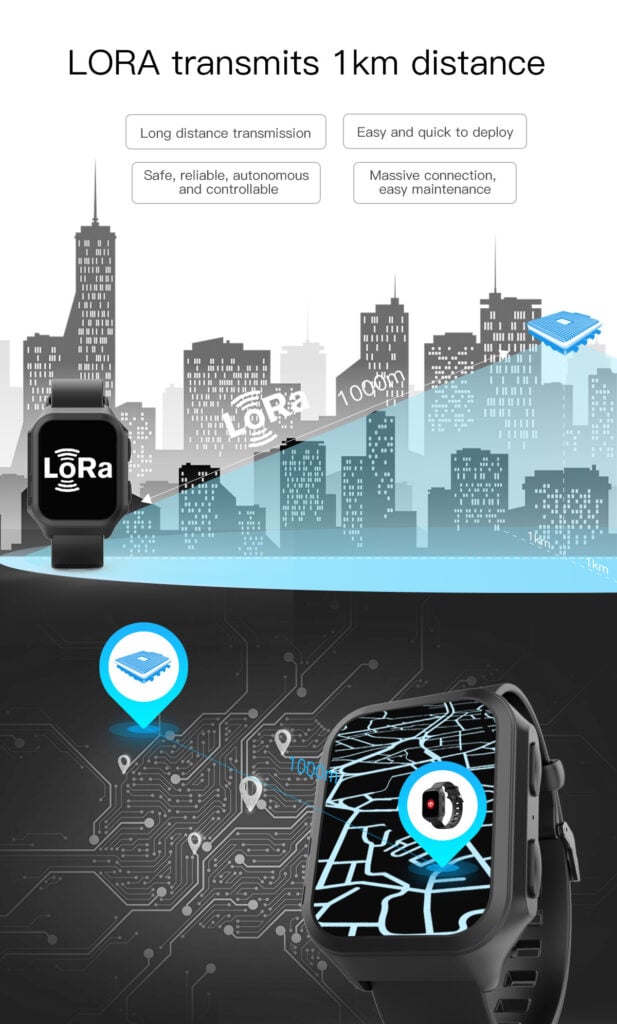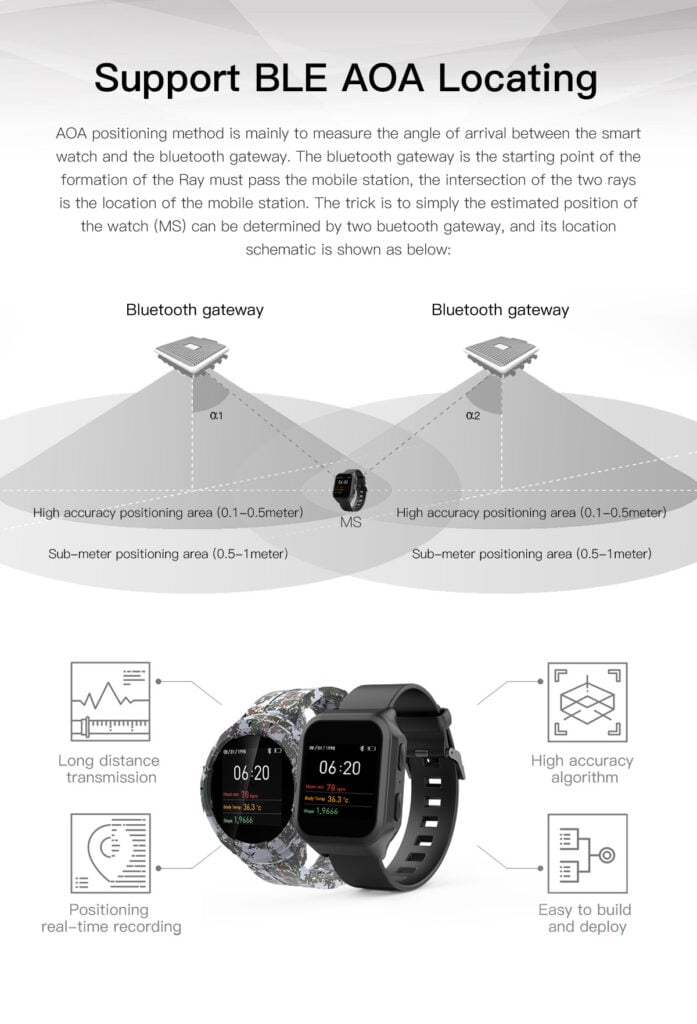 5. iSmarch LoRa wristband detailed introduction
GPS/BD location:
High accuracy indoor and outdoor locating. We adopt lower power conmsuption GPS modula to support longer working time after fully charged. And LoRa wristband watch is biggest power capacity with over 650mah
Support BLE AOA locating
AOA positioning method is mainly to measure the angle of arrival between the smart watch and the bluetooth gateway. The bluetooth gateway is the starting point of the formation of the Ray must pass the mobile station, the intersection of the two rays is the location of the mobile station. The trick is to simply the estimated position of the watch (MS) can be determined by two buetooth gateway, and its location schematic is shown as below:
6. iSmarch LoRa Smartwatch Advantages:
BLE5.2+LORAWAN(868MHZ & 915MHZ ISM Band)+GPS
LoRaWAN + Bluetooth network connection available
Complete vital sign monitoring like heart rate, blood oxygen, blood pressure, temperature, HRV, sleep, daily acitivyt tracking..
Bluetooth AOA and outdoor GPS indoor and outdoor locating monitoring
Biggest power capability for 650mah for much longer working time
Supoport work with Bluetooth and LoRa Gateway
Support all LoRaWAN frequency
High accuracy PPG & accelertor senor raw data, also support cutomization for more sensors like 12 axis.